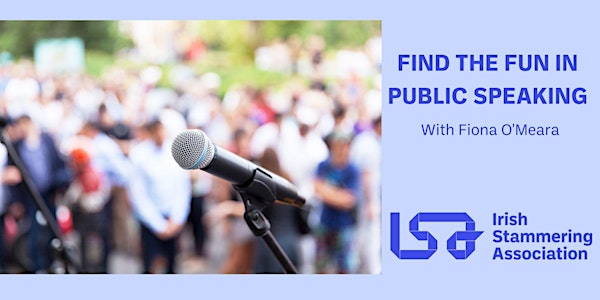 Find The Fun in Public Speaking - with Fiona O'Meara
A workshop to help you find the fun in public speaking!
By Irish Stammering Association
Date and time
Sat, 24 Jun 2023 03:00 - 05:00 PDT
About this event
Do you hate speaking in public? Dread meetings at work or certain social occasions? And are you sick of feeling this way?
Wouldn't it be nice to enjoy sharing your opinion, rather than dreading it? And wouldn't it be a relief to know you had skills to draw on if asked to speak on the spot?
In this workshop, you will learn how to come up with ideas and structure your thoughts through fun games and speaking exercises. You'll be surprised at how much you'll learn in just two hours!
This two-hour online workshop for adults will be taught via Zoom, and teaches skills suitable for both online and in-person environments.
Learn how to :
● Think on your feet.
● Answer random questions in under 90 seconds.
● Be clear, concise and coherent.
● Make eye contact and speak with more confidence.
● Enjoy speaking in public
You will do this through:
● Easy, fun improv games to improve creative thinking.
● Learning rehearsable demos that you can use for different speaking situations. ● Paired and individual speaking exercises.
● Receiving individual feedback.
ABOUT YOUR TRAINER:
Fiona O'Meara is an award winning speaker who teaches public speaking privately and in schools. Find out more below:
https://ie.linkedin.com/in/fiona-o-meara-she-her-8a6747b2
TESTIMONIALS:
"Have to do a monthly presentation to the CEO & CFO in Aer Lingus, I'm only doing a portion of it but if someone told me 12 months ago I'd be doing it, I'd have said no chance...thought of you after the presentation and so a BIG thank you! "
Eddie Murphy, Head of Fleet Assets, Aer Lingus
"The speech lives on because we've had letters/cards/visits from guests who quote from it! It couldn't have gone better, it was an absolute winner…a resounding success – huge thanks to YOU! The laughter was so loud I had to pause for longer after each segment which meant I gave the speech with greater ease and confidence. I knew I had them!! ... I am truly grateful."
A Happy Bride, Dublin 6.
"I used to hate public speaking. I felt like an outside runner a few months before a recent job interview but thanks to Fiona I was able to get the job, much to my amazement. If you feel like public speaking or interviews are not your thing then I couldn't recommend meeting with Fiona highly enough! "
Ruth Law, Medical Doctor (Consultant)
Without a doubt, Fiona's course has been the most rewarding & fun course I have ever attended. The supportive environment she creates has really helped us all develop & start to feel much more of a buzz rather than just a feeling of dread when we speak in front of others.
Martin Redmond, Financial Services
"I was terrified coming into the class but Fiona put us at our ease straight away. I would definitely recommend this course to anyone who is nervous about presenting. I've learned so many helpful techniques. It was such a positive atmosphere all down to Fiona! "
Alma Hanvey, Pharmacist
This event is for adults age 18 years+