Event Information
Location
Eclipse Centre Holiday Homes & Activity Centre
FIRED UP!
Kenmare, County Kerry V93 EC65
Description
We cannot solve our problems with the same thinking we used when we created them. Albert Einstein
The world isn't thinking the same way so neither can we. Here's a weekend all about you. Designed with learning and activities to bring out the best out in you, it is a celebration of the power of the individual!

Introducing SWOT?
SWOT stands for Strengths, Weaknesses, Opportunity & Tenacity.
Strengths - we all know what we're good at. Or do we? How many times have we compromised our strengths to fit in? What situations bring out our strengths and can we operate from a position of strength in other areas? Have we ever been called to dig deep to summon up 'beast mode'? How do we channel it when we do? Change and Leadership takes an inner strength that most are never called to tap in to. 'The comfort zone is a beautiful place but nothing ever grows there.'
Weakness - we're used to having our weaknesses pointed out to us as flaws and failures and we often declare them 'before someone else does'. However, knowing that you make a better defender than a striker is a position of strength and is helpful to a manager picking a team and saying 'I don't know' is a real time saver. Being comfortable with knowing that you need assistance in some areas, that you are not an expert in everything means that there are no chinks in your armour and you don't have to dedicate energy keeping up a pretence.
Opportunity - sometimes in this acronym an 'A' is used to stand for adversity. To put it another way, the word 'altitudo' in Latin means 'depth' AND 'height' because it is a matter of perspective. Opportunity often comes in the form of Adversity from a certain perspective and is key to entrepreneurial thinking. Programming your brain to reframe adversities comes when you've stopped giving energy and attention to your weaknesses. This is the entrepreneurial mindset - not just in business but society, relationships or just about any area of your life that you choose to make an improvement.
Tenacity - some dogs chase cars but what would they do with it if they ever caught it? It may sound funny but tenacity for tenacity's sake is a waste of your time and energy. Learn to pick your battles and choose a team that compliments your weaknesses if you are going to be tenacious about completing your task, achieving your goal or manifesting your dream. Not all pain is gain!
Creating All-Stars
The SWOT Team believes that no-one is an island and no-one succeeds alone. We are looking an environment where independent individuals can flourish and can play on or form a team of All-Stars. As Steven R. Covey calls it in his seminal book 'The 7 Habits of Highly Effective People'; interdependence through independence. Think about any team sport; do all the players play in the same position? Do all the players have the same strengths? No, but are there qualities that they all have in common? YES! They know their SWOT and can all rely on each other to 'look after their own patch'.
"Opportunity is missed by most people because it is dressed in overalls and looks like work." Thomas A. Edison
We're all about the fun and we're big on personal development but having the 'ah-ha' moment or uncovering the 'blocker' is only half of what personal development is about and you're selling yourself short if you stop there. Your SWOT team is all about 'The Final 50' ©, the final 50% that makes the difference, the extra mile that will differentiate you from the average.
Itinerary
The price for the weekend includes accommodation on Friday and Saturday night, breakfast on both mornings, lunch, classes and activities. Shuttles to the local inn will be made and if you'd like to take your favourite tipple for the barbecue, feel free to do so. There is a €20 surcharge if people wish to stay in the Sneem Hotel instead of on site.
Friday 8th June
20:30 - Welcome to Eclipse

Saturday 9th June
10:00 Athos & Howard preface the day. We've got a fun way of creating teams/tribes.
10:30am-11: 30 am Speaker & topic to be announced.
11:45 - 12:45 Howard Hughes speaks on Why You Have To Be A Little Crazy to Change.
13:00 Lunch and stretch the legs.
14:30 Athos will take the tribes for the activities.
Orienteering/Scavenger Hunt with upgraded big brain riddles and dingbats at stations

Task Challenges to incorporate Lateral Thinking props and obstacles from the Assault Course challenge
16:30 Come back, shower and rest
18:00 Prep for firewalk begins, a 2hr training and build up - Leadership piece.
20:30 - BBQ and drinks, sing song
Sunday 10th June
9 am Breakfast
11 am - Tie a bow on it. Facilitated shared learning and BONUS content.
Change, Leadership and Innovation
Howard Hughes has been in leadership education and development since 2007 creating and developing leaders and honing their skills in Ireland, the UK, France, the Netherlands working with individuals and teams in the fields of pharmaceuticals, animal health, retail and security. In 2014 he went to Switzerland to train as a firewalk instructor to add the 'action' to the 'theory' of leadership. Using the 400ºC-500ºC as a metaphor for the challenges we face in both business and personal life, Howard creates the space to re-examine what we think is possible and to use our minds to critically evaluate a situation with our prefrontal cortex rather than play victim to our emotional limbic system. Howard's training has been consistently 3-4 years ahead of mainstream teachings giving him and his clients the competitive edge.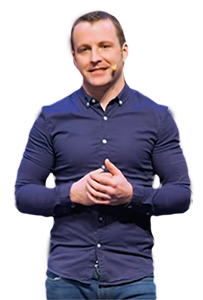 WHO IS PAT...
Pat Divilly is a best-selling author, corporate speaker, world traveller and high-performance coach.
Over the last five years, he has emerged as one of Ireland's best young entrepreneurs helping clients all over the world achieve success in both the weight loss and personal development space through his online training courses and best-selling books.
He is passionate about helping people 'upgrade' their thinking to find more passion, purpose and fulfilment from all aspects of life, whether it be their physical or emotional fitness, their relationships, their career or their 'crazy ambitions and dream's'.
Pat's groups have raised over €250,000 for local charities in Ireland and are currently building a school in Nepal, a chance to promote youth leadership and education.

Athos - Eclipse Ireland
https://youtu.be/sGrGQgKkBMM
Date and Time
Location
Eclipse Centre Holiday Homes & Activity Centre
FIRED UP!
Kenmare, County Kerry V93 EC65