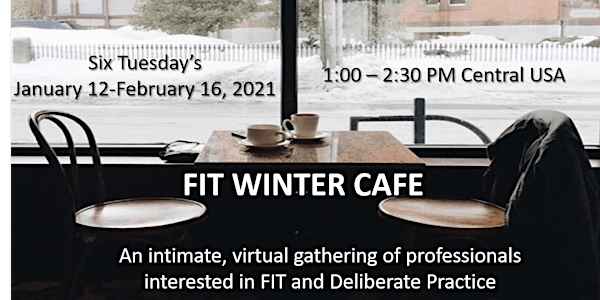 FIT WINTER CAFÉ
FIT WINTER CAFÉ!
By The International Centre for Clinical Excellence
Date and time
Starts on Tue, 12 Jan 2021 11:00 PST
About this event
The FIT WINTER CAFÉ is an intimate virtual gathering of professionals (10 Max) interested in Feedback Informed Treatment (FIT). Your hosts, Scott D. Miller Ph.D. and Cynthia Maeschalck, MA, welcome you to six, 1.5 hour Zoom sessions to discuss and consult about your use of FIT and Deliberate Practice.
Dates: 6 consecutive Tuesdays: January 12 - February 16, 2021
Time: 1:00 PM- 2:30 pm (Central US time zone)
Location: Online
This small group meeting is a perfect opportunity to get specific help with:
Getting started with FIT in individual practice or agency settings
Learning to read and use FIT progress graphs
Understanding individual or agency aggregate outcome and alliance data
Individual case consultations
Implementing Deliberate Practice
FIT WINTER CAFÉ is an open discussion format. Participation counts towards qualification as a Certified FIT Practitioner (CFP)* and FIT Trainers re-certification. Given that content is driven by participant interests and questions, no CE's will be provided.
CANCELLATION POLICY
To preserve the intimate nature of this meeting, space is limited to 10 participants. No cancellations or deferral of missed meetings permitted. In the unlikely event the workshop is cancelled (e.g., weather, death, natural or human caused disasters, or other "Acts of God") participants will be automatically registered for the next available meeting. No liability is assumed or coverage offered for any costs incurred resulting from cancellation.
* To achieve Certified FIT Practitioner (CFP) designation applicants must:
Attend a FIT Intro or have 4 hours of consultation provided by a FIT Certified Trainer or have completed one of the available FIT e-learning programs (documentation must be submitted as proof).
Attend the ICCE FIT Intensive and FIT Supervision Intensive.
Pass the Certified FIT Practitioner online exam
For more information about becoming a certified FIT Practitioner contact: training@centerforclinicalexcellence.com
About the organiser
The I.C.C.E. is an international organization of clinicians, researchers, and technologists dedicated to delivering products and services that promote excellence in behavioral health services. www.centerforclinicalexcellence.com