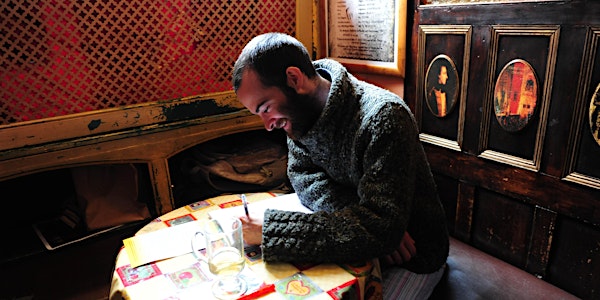 Flow Writing takes you back to that freely gifted self. That place where infinite ideas and inspirations are just hopping to come through.
About this event
What is Flow Writing?
Flow Writing takes you back to that freely gifted self. That place where infinite ideas and inspirations are just hopping to come through. It's not a magic switch, it's a practice, a messy, never-ending journey. But it works. Because that gift of words in you exists, and nothing can ever take it away.
"I've discovered a fountain of stories inside myself that I never knew existed." Julie
"The workshop was highly energetic, fun, and totally lit my fire." Isha
What happens in the workshop?
As with all my workshops, you never quite know what will happen. Yes, I'll share the flow science secrets, and my practices created over decades of writing and teaching. Yes, I'll give you the insights to set yourself free on the page. But I'll also flow new perspectives and practices in the moment with you, inspired by what's shared and alive in the group.
Having said that, every workshop covers much of this stuff:
- Learn simple, profound practices to access and amplify flow states every day.
- Map out the crazy-making unconscious patterns holding you back, and harvest the treasures within them.
- Come to celebrate going blank, writing crap and having no idea what you're doing, and thus find flow.
- Discover messages and stories you didn't even know you were holding inside.
- Discover parts of yourself burning to come through, releasing intense aliveness in your words.
- Explore how your body can give you courage and inspiration, even when you feel a million miles from them.
- Get guidance on creating sustainable routines to start writing, keep writing and finish work.
- Discover how there's no such thing as 'boring' or 'fascinating' topics; it's all about the consciousness you bring to it.
- The workshop will be recorded and yours to keep, so you can return to the exercises and insights as often as you wish to soak it all up. (The recording is only for participants).
- Connect with incredible people, and share lots of laughs, heart and imagination.
​- Plenty of space to stretch, move around, take breaks etc. And lots of writing done.
Who is this workshop for?
The workshop is perfect for the nervous, the blocked and the shy. It's also perfect for the cocky and inspired. There'll be plenty of invitations to connect and share, and it's also totally ok to just sit there, attend to your page and soak it all in. You're welcome as you are.
Any more questions? Just get in touch on lifeispurecreativity@gmail.com, happy to chat about any aspect of it. Or just book to grab a spot.
"I am grateful for your gentle yet powerful voice and presence, and the permission it gives your fellow humans to look within. Without your session, I wouldn't have had this breakthrough." Karen
"I thoroughly enjoyed Dave Rock's freeing, wildish, devotional transmission here to creativity…a gently awake, lucidly lunatic, wisely playful & loving approach…that elicited a kind of existential relief... Speaking to writing but really I find it applicable to so many of the processes life is comprised of." Danika
How much does it cost?
I offer you a choice of three different prices, because I want everyone to be able to come. I ask you to consider your income levels and your needs, and to consider the time and energy I have put in to be able to teach these workshops, and my income levels and needs! And choose from the heart what feels best for you.
There's already a great group of folks booked in for this.....