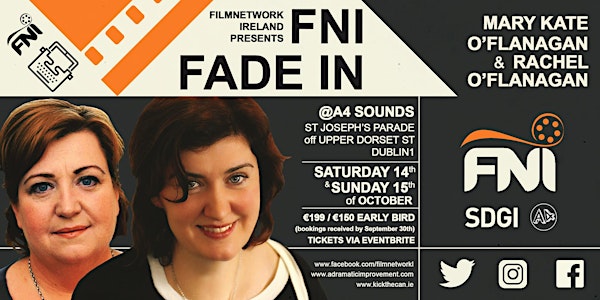 FNI FADE IN: Storytelling for The Screen: An Introduction to the Principles of Story for Writers and Directors.
When and where
Location
A4 Sounds Saint Joseph's Parade Dublin Ireland
Refund Policy
Contact the organiser to request a refund.
Description
FNI FADE IN: the second of Film Network Ireland's Writing series.
Storytelling for The Screen: An Introduction to the Principles of Story for Writers and Directors.
Film Network Ireland presents a very special weekend workshop with A Dramatic Improvement. http://www.adramaticimprovement.com/about/
Dates:
14th/15th October 10:30 – 17:30 Saturday and Sunday @A4 Sounds.
Course Fee: €199 / €150 Early Bird (bookings received by September 30th).
Participant Profile: People interested in Writing, Directing, Editing and Acting for The Screen.
Content: Cinema and television are narrative media, so a deep understanding how stories work is an advantage for everyone working in the industry. No matter what your role is in the creative process, being able to deconstruct a script and harness your talents to serve the story is an invaluable skill.
This detailed weekend workshop examines the basic building blocks of story, especially as it works in film and television. We will look at:
· Why We Tell Stories
· How Stories on Screen Differ from Other Narrative Media
· Audience Participation in the Story
· Creating and Sustaining Dramatic Tension
· When (and Why) to Withhold Information and When to Share It
· How to Find The Beginning, Middle and End of Your Story
· How to Choose what to Keep and What to Pare Away in a Second Draft
· Plot and Character - How They Are Intertwined
Te mornings will be a lecture with Q & A. There will be examples from different short films. The afternoon will consist of a film analyses, showing the theory we have at work.
Tutors:
Mary Kate O Flanagan is an award-winning screenwriter and story consultant in the European film and television industry. She teaches story in The UK, The US, South Africa, Slovenia, Denmark, Germany, Romania, The Czech Republic, Norway, Slovakia, Poland, Iceland and Malta as well as in Ireland. Mary Kate is Ireland's First Grand Slam Champion Storyteller at The Moth, a title she won at The Abbey Theatre in October 2015. She is also The Grand Slam Champion Storyteller at The Moth in LA, a title she won in January 2017.
Rachel O'Flanagan…
Rachel O'Flanagan and Mary Kate O Flanagan give training across Europe in storytelling skills of cinema and television. They have lived in several countries and are particularly interested in how the stories individuals and peoples tell about themselves inevitably shape their futures.