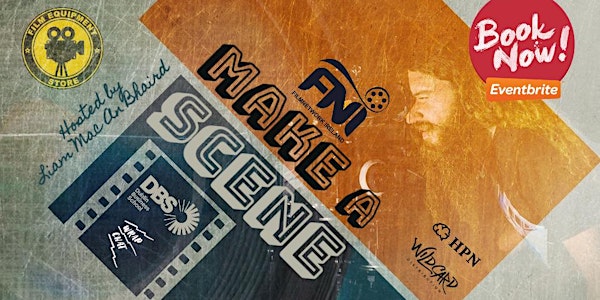 FNI Make a Scene: Showreel Scenes for Actors
Fni "Make a Scene" with Liam.
When and where
Location
Dublin Business School Balfe Street 5 Balfe Street D02 Y622 Dublin 2 Ireland
Refund Policy
Contact the organiser to request a refund.
About this event
We're delighted to welcome Liam Mac an Bháird to give our latest class.
Liam will give a Showreel Scene Workshop across the weekend of (5th/7th March) to work with a group of Actors to make a cinematic quality scene/s for your showreel. Everyone attending will get at least one filmed scene of material.
The workshop, will run over two evenings and a full day, The classes will start on Thurs Evening ( 6pm) for a brief, pairing up (if you haven't already) and selection of scenes between the hours of 6-9, Friday from 6-9 to rehearse and ultimately from 10-6 on the 7th to shoot, (Saturday) Scenes should not excide three mins in Length.
Liam will then edit your filmed scenes and send them to you after an agreed period of time, based on the number of attendees.
The days will feature mini workshops for specific scenes from films, including Liam's suggested film scripts and monologues. If you have an idea for a scene, bring along. It should (Maximum contain two Characters, in a simplistic environ, NO GUN FIGHTS, NO SCI-FI, Keep it Character Driven, Scenes from lesser known independent films work best, Plays are even better.
The Purpose of these scenes are to showcase your acting ability on camera, on your face, this means no Tom Cruise running and no over elaborate set ups. There is a maximum of 20 participants, to comply with logistical arrangements. Its encouraged to bring a scene partner as both of you will get an equal opportunity to get one scene each, however, We will film monologues, should people prefer.
ABOUT LIAM:
Liam is an international filmmaker having worked with actors all across Europe. A graduate of the National College of Art & Design with a Degree in Fine Art Media & History of Art and holds a Masters in Film Production & Screen Culture from UCD. Liam Co founded the Wildly Popular Kino D movement in Dublin in 2013, which was featured in the Irish times and various media outlets, Kino D has literally created hundreds of Short films, which have screened all over the world since it's inception and is still going strong. The Ultimate run and Gun Film school.
The workshops will involve script preparation, character breakdown, discussion, rehearsals and on-camera practicals. You will be given filmed sequences to keep for your showreel.
This workshop is ideal for people coming to acting from a grass roots environment, to make the most of their allotted time and to gain confidence on-camera and also for experienced actors to develop their screen presence and develop nuance. Whatever your experience level, this workshop will build on your existing skills and give you two fresh scenes to add to your reel.
You will develop your skills in understanding and accepting direction in live filming scenarios as well as self-directing to prepare for the film set. You will progress from monologue work to dialogue scenes, and build your awareness of camera-specific screen presence that can be very impactful (for example, eyeline work, connection with audience and motivations). We will also screen these scenes in the new Five Lamps private cinema 2 weeks after the event for your friends and family or people you would like to attend. Agents/Casting Directors.
"Make a Scene" with Liam will be informal and fun (Like the best sets) because you will be prepared before we shoot. We will be covering different topics, including the important aspects of camera acting, your casting type and blocking dynamics with fellow cast members, and we will apply the teaching to specific scenes and character roles.
Paul Butler Lennox will also be on hand to help co-direct/mentor and rehearse scenes on the days, Paul is Co-Founder of FNI, an Actor, Director, VO artist and Writer. www.about.me/paulblennox for more info about Paul.
Whether you are a newcomer to acting, or an experienced professional actor, this is an opportunity to:
• Build your confidence in front of the camera
• Allow your authenticity to show on-screen
• Develop self-awareness in your acting
• Learn how to develop character for TV and Film
• Create fresh material for your showreel shot on an industry cinema camera with Prime lenses.
• Improve your Audition Technique
• Work with a director who will energise and empower you.
• Develop your technical abilities for camera
Be Part of the Chance you want to see in your own Career. The Harder you work on these scenes, the better they'll be.
#WeAreFNI #YouAreFNI