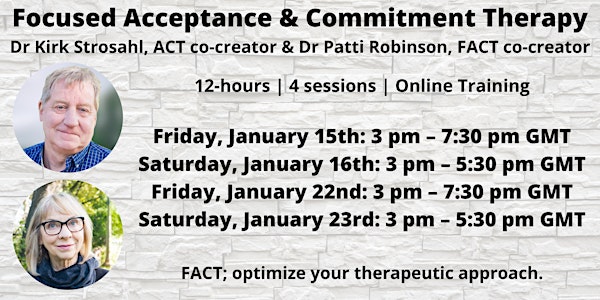 Focused Acceptance & Commitment Therapy with Dr Strosahl & Dr Robinson
Join Dr Strosahl and Dr Robinson for this applied training in Focused Acceptance & Commitment Therapy; Enact meaningful change here and now.
Refund Policy
Contact the organiser to request a refund.
About this event
Now more than ever, clinicians are under pressure to optimize client outcomes in as few sessions as possible. Focused Acceptance and Commitment Therapy (FACT) treats every therapy session as if it's the last, empowering clinicians to maximize the likelihood of meaningful change here and now.
In January 2021, join Dr Kirk Strosahl and Dr Patti Robinson, co-founders of FACT and world-renowned authors, for this applied FACT training. Over the course of four days, this 12-hour workshop delivered via Zoom will provide a brief introduction to the theoretical basis of FACT and hands-on tools for the mastery of foundational FACT skills. Participants will learn to assess, conceptualize, and deliver powerful brief interventions, further learning to shift from traditional diagnostic-based treatment services to FACT. Enhance your clinical toolkit and learn how to effectively optimize your therapeutic approach.
!!! IMPORTANT SCHEDULING NOTICE !!!
This online training takes place via Zoom across four sessions.
Friday, January 15, 2021: 3 pm – 7:30 pm GMT
Saturday, January 16, 2021: 3 pm – 5:30 pm GMT
Friday, January 22, 2021: 3 pm – 7:30 pm GMT
Saturday, January 23, 2021: 3 pm – 5:30 pm GMT
Cost & Registration
€275 for complete access to the online training via Zoom. Reduced rate of €225 offered for students and unwaged/ low waged attendees. 10% discount for members of our mailing list. 20% discount for graduates of our Advanced ACT MBI Course. €75 discount for people that register for our upcoming certification course with Dr Scarlet.
Who is this training for?
A variety of professions including and not limited to Psychologists, Psychotherapists, Coaches, GPs, Psychiatrists, Speech and Language Therapists, Occupational therapists, Physiotherapists, & Executive coaches.
Prerequisites
Some familiarity with the ACT model is recommended but not required. This training will include a number of experiential exercises that are completed in pairs. For this reason, we recommend signing up with a learning partner that you can work with throughout the sessions and connect with for continued support following the workshop. If you are registering solo, we will find a learning partner for you within the context of the training.
Workshop Learning Objectives
Weekend 1. Friday, January 15th & Saturday, January 16th
Describe the FACT model and its application to address psychological and medical problems
Use FACT assessment strategies
Use FACT to conceptualize treatment
Assess and measure psychological flexibility
Participate in strong clinical conversations about values and "workability" of solutions to problems of living
Engage people in change by promoting behavioral variability
Weekend 2. Friday, January 22nd & Saturday, January 23rd
Gain skill in merging conceptualization and intervention
Identify in-the-moment opportunities for enhancing Psychological Flexibility
Create SMART behavioral experiments that promote behavioral variability
Use the Life Path intervention as an initial visit intervention
Use the Bull's Eye Plan as an intervention
Create a resilience plan, after assessing your Psychological Flexibility and vitality