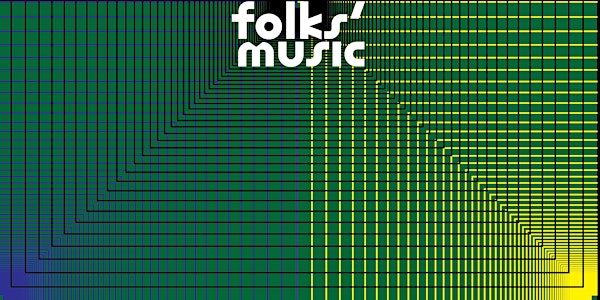 FOLKS' MUSIC
We all know what folk music is, more or less. What about folks' music, then? Would that be the music of lots of different folks?
By Louth Contemporary Music Society
Date and time
Fri, 16 Jun 2023 20:00 - Sat, 17 Jun 2023 22:00 IST
Location
St.Nicholas Church of Ireland Church St Dundalk Dundalk Ireland
Refund Policy
Contact the organiser to request a refund.
About this event
FOLKS' MUSIC
Louth Contemporary Music Society Festival
June 16–17, 2023
We all know what folk music is, more or less. What about folks' music, then? Would that be the music of lots of different folks? Indeed it would.
Folks' Music will be the next annual midsummer festival presented by Louth Contemporary Music Society, and it will bring together just that: lots of different folks. Some with dirt on their musical boots.
Irish traditional musicians will be there, of course. And four saxophone players from Spain. And two string quartets, from London (Explore Ensemble) and Dublin (Esposito Quartet). And composers from Italy, Canada, the United States and England as well as Ireland. And another of the brightest stars in this country's musical heaven: Chamber Choir Ireland.
The choir will be there to get things going at eight o'clock on Friday evening, June 16, singing in the luminous atmosphere of St Nicholas Church of Ireland in Dundalk. Two LCMS regulars from North America have new works on the programme: Linda Catlin Smith and Cassandra Miller. The music of both of them is haunting. You think perhaps you may have heard something like this before. But no, you haven't. Nor have you heard anything like the magical incantation "How to Fold the Wind" by Caroline Shaw. This is folk music from some place off the map.
On Saturday things get busy. At one o'clock the Explore Ensemble are in jail – the clean, intimate space of Dundalk Gaol. Their concert includes a new piece for string quartet and electronics by Irish live wire Sam Perkin, but most of the music is by Clara Iannotta: two urgently whispering quartets, both quite different, but both of them leading you along with the dream logic of a David Lynch movie. No wonder Iannotta is one of the most sought-after composers in Europe today.
Next on, in St Vincent's Chapel at 3pm are Sigma Project, the Spanish sax players. They believe in putting a bit of theatre into their performances, this time of pieces largely by Spanish composers. "Tenebrae" by Jesús Torres is shadow music indeed, Renaissance polyphony heard from the distance – and at times up close. Helga Arias's "Milk Spilt on a Stone" has the players bringing forward cloudy chords, hanging in the air. "Khôra", by José María Sánchez-Verdú, is a kind of wordless ritual, taking its title from Plato's term for a space of non-being. There's also a striking piece by a Greek-Argentine modernist who has slipped out of history: Graciela Paraskevaídis.
The Esposito Quartet are on at 5pm at the Spirit Store, Dundalk's music bar. They offer a new piece by Laurence Crane, his music so sparse and unadorned, so invitingly mysterious. And Caroline Shaw is back to sing a group of her contemporary folk songs with them, as well as hear them play her spring-fresh "The Evergreen".
Back at St Nicholas Church at eight in the evening, the festival closes with Terry Riley's iconic In C for the first time performed by Irish Traditional musical luminaries Zoë Conway, Donal Lunny, Paddy Glackin, Máirtín O'Connor, Mick O'Brien, Louise and Michelle Mulcahy in a glorious ride on a sunbeam.
Funded by the Arts Council and Create Louth. Supported by RTÉ Supporting the Arts and with the friendly support of Ernst von Siemens Music Foundation.
About the organiser
"Exceptional things only happen when the passion of individuals nourish an idea," Pärt tells me. "When Eamonn approached me in 2006 and asked for a new work, I felt this passion. It, and the story of Ireland, inspired me to create The Deer's Cry, which ever since has been very close to my heart. I gratefully remember my collaboration with him and his society. The music world needs such committed fighters as Eamonn Quinn."
Arvo Pärt speaking to The Guardian about Louth Contemporary Music's Eamonn Quinn
The Guardian June 2017