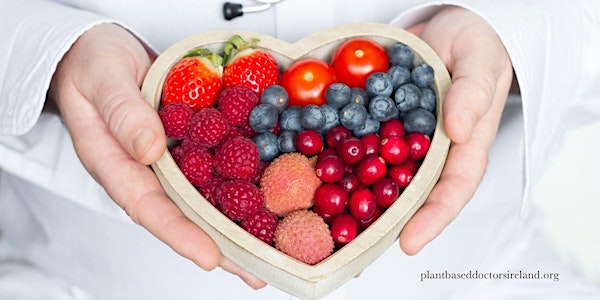 Food As Medicine: an evidence based introduction to plant based nutrition
When and where
Location
Dublin Catherine McAuley Centre 21 Nelson Street Dublin 7 Dublin Ireland
Refund Policy
Contact the organiser to request a refund.
Description
Plant Based Doctors Ireland invite you to Irelands first medical conference exploring the exciting possibilities of plant based nutrition to not only prevent but to treat and reverse common chronic diseases.
There will be talks by medical doctors with special interests in the field of cancer, diabetes, inflammatory bowel disease and cardiovascular disease. There will also be discussion around the hot topic of sustainability and how what we eat impacts upon our environment. We will also present compelling patient stories and experienced Irish GPs will share their knowledge of what plant based nutrition looks like in primary care and how it works in practice. Please see below for details of the agenda (subject to change).
Finally The Happy Pear twins David and Stephen Flynn will be on hand to share their experiences in making healthy plant based nutrition popular and accessible over the last decade.
Healthy refreshments, snacks and a plant-based lunch will be provided. Please feel free to bring your own cup in the interest of sustainability.
CPD points have been applied for.
contact details can be found at www.plantbaseddoctorsireland.org
Agenda as of 14th January 2019:
9:00-09:30 Registration
9:30-9:45 Welcome and introduction - Dr John Allman, General Practitioner
9.45-10.15 Why should Irish Healthcare focus on our diet? - Dr Sean Owens, General Practitioner Registrar
10:15-10:45 Prevention and treatment of heart disease and diabetes - Dr Tom Hubbard, General Practitioner
10:45-11:00 BREAK
11:00-11:30 Health, happiness and witnessing the benefits of a plant-based diet - Stephen and David Flynn, The Happy Pear
11.30-12:00 Plant based diets at different stages of life - Dr Conor Kerley, Registered Dietitian
12:00-12:30 Barriers to change - a GPs experience - Dr John Allman, General Practitioner
12:30-12:45 Patient story: Type 2 diabetes and diet
12:45 - 13:00 Questions
13:00-14:00 LUNCH
14:00-14:30 Sustainability and health: How our diet impacts our environment - Alan Scarry, Social and Food Science Researcher
14:30-15:00 Treating inflammatory bowel disease with dietary intervention - Dr Alan Desmond,Gastroenterologist
15:00-15:15 Patient story: Ulcerative Colitis and diet
15:15-15:30 BREAK
15:30-16:00 The plant-based advantage for cancer prevention and recurrence. - Dr Shireen Kassam, Haematologist
16:00-16:30 Disease proofing children with a plant-based diet - Dr Shandeep Momi, General Practitioner
16:30-17:00 Discussion and close