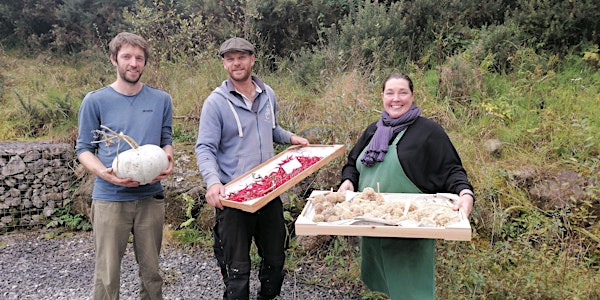 Food Heritage for Biodiversity
Join us to celebrate National Heritage Week and reconnect with the skills and traditions of the past.
When and where
Location
Capparoe Capparoe Scariff Ireland
Refund Policy
Refunds up to 1 day before event
About this event
Irish Seed Savers will host an exciting 'Food Heritage for Biodiversity' event on Sunday 21st August, as part of National Heritage Week.
'Sustainable Heritage' and 'Biodiversity' are the themes for this year's National Heritage Week and in exploring this further Irish Seed Savers have lined up a series of talks, tours and tastings which aim to deepen our connection with Ireland's food crop heritage, natural environment and biodiversity.
We can conserve our cultural heritage and contribute to developing a more sustainable future by connecting with the skills and traditions of the past and passing them on to the next generation. Learn the age-old tradition of seed saving in our Seed Saving Workshops, learn how to successfully grow for seed, explore the wealth of pollinators on our expert led guided tours and taste the delight of a heritage apple variety to help preserve our intangible cultural food heritage by keeping it alive and vibrant.
With organic horticulture expert Jim Cronin, learn about farming ethos founded in nature conservation that create habitats for wildlife, pollinators, worms and micro-organisms that are fundamental to food crop growing. Jim will demonstrate a method of bringing a plot into a vegetable, flower or herb garden without machinery.
Join Bev Truss from local wildlife rescue The Hogsprickle to learn how to make your garden and community more hedgehog friendly and Susan Kerwin, Bat Specialist Rehabilitator at Bat Rehabilitation Ireland to learn about Ireland's bats and how to care for the environment to support them.
Schedule details:
• 11am Seed Saving Demonstration with Deirdre Morrissey, Seed Curator at Irish Seed Savers
• 12am Guided Orchard, Log Bee Hive Tour & Apple Tasting
• 1pm Growing & Saving Seed for Biodiversity Walking Tour with Tristan Lienhard, Head Gardener at Irish Seed Savers
• 2pm Hedgehog Walk & Talk, Bev Truss, The Hogsprickle
• 2.30pm Seed Saving Demonstration
• 2.45 Bat Talk, Susan Kirwan, Bat Rehabilitation Ireland
• 3pm Preparing an area for a Garden with Jim Cronin (Talk & Demonstration)
• 4pm Guided Biodiversity Garden Tour
Biodiversity Treasure Hunt & Children's activities throughout the day
Live Traditional Music
Cafe Open for refreshments 11am to 4pm
€10 Entry Fee
Free entry for Supporters & Children