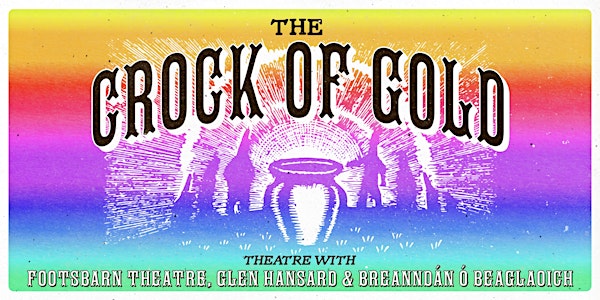 FOOTSBARN THEATRE : GLEN HANSARD : BREANNDÁN Ó BEAGLAOICH
MAGICAL EVENINGS FOR ALL! Theatre with Footsbarn, Glen Hansard and Breanndán Ó Beaglaoich + concerts, food, drinks and the impromptu!
When and where
Location
V92 KD3H - 450M FURTHER ON R549 TOWARDS MOUNT BRANDON - A FIELD IN WEST KERRY COORDINATES 52°13'35.6"N10°20'23.4"W BALLYNABUCK DINGLE PENINSULA V92 KD3H BOHERBOY Ireland
About this event
In the magical Footsbarn Tent, pitched in a field in Ballynabuck, on the wild Atlantic Way you will be entertained firstly by a theatrical performance of 'The Crock of Gold' with live music by Glen Hansard and Breanndán Ó Beaglaoich. Then, after an interval enjoying the offerings of the food and drink tent, relishing views of the sea and enjoying fresh ocean air upon the land, there will be a musical concert with opening act THE MESSAGES followed by Rónán Ó Snodaigh & Myles O'Reilly and other surprises...
UNDER 16's FREE WHEN ACCOMPANIED BY A PAYING ADULT
This Footsbarn Theatre production stems from a love and desire to celebrate James Stephens' unique novel, The Crock of Gold.
The essence of the idea was to create a piece of theatre with multi-national artists, which reaches way out beyond the boundaries of language, class and culture. Glen Hansard and Brendan Begley, who share the same respect for the novel as Footsbarn, came on board to write and play the original music that accompanies the performance live.
THE NOVEL
The Crock of Gold, written in 1912 by James Stephens, is a modern, dense and delectable fable.
With a comic and intricate web of philosophers, leprechauns, pagan gods and policemen, this tale leads us from darkness to light whilst asking some of life's fundamental questions:
Should one apprehend the world through thought at the expense of the heart and the senses? Can we be happy living alongside another's misery? Can we hold our heads up high while being unemployed? How can the balance of power between men and women lead to harmony?
The main character, the philosopher, leaves his family and his dark den in the forest in search of a girl kidnapped by the God Pan, free in love equally with Aengus Óg. On the way he meets a multitude of characters and incredible situations that illustrate the on-going problems of our society. His journey becomes an odyssey that will change him forever.
This unique, comic novel is a fertile mixture of Irish folklore, modern fable and mythology. Extremely funny and full of wisdom and magic, it and its author have been somewhat forgotten in the canon of Irish literature - however this sad fact has given us a terrific opportunity to restore it to the place where it should still be – a vital part of Ireland's rich cultural heritage which can only deepen the connection between people, place and the past.
This entrancing production is woven together with original music by both songwriter Glen Hansard and man of many musical talents, Brendan Begley who both appear live on stage each night throughout the performance. Together with the superb creative expertise of Footsbarn Theatre, it is a powerful collection of souls who are very well suited to bringing the magic of this piece to life on the stage and onwards to villages, towns and festivals of Ireland, English and Irish and French languages entwined, the essence of the idea to create a piece of theatre with international artists which would reach out beyond the boundaries of language, class and culture.
This show is not just aimed to all the ages of the family, but is a wordless gift to every human heart and imagination.
RÓNÁN Ó SNODAIGH & MYLES O' REILLY
Remembering to be grateful. "It's not finding gratitude that matters most; it's remembering to look in the first place. Sometimes life lands a really mean punch in the gut and it feels like there's nothing to be grateful for. Guess what? It doesn't matter. You don't have to find anything. It's the searching that counts."
Kíla frontman Rónán Ó Snodaigh recalls a valuable lesson learned in the pandemic lockdown. "Gratefulness doesn't just make you happy — it creates a positive feedback loop in your relationships. So express that gratitude to the people you care about." It was in the soil of this powerful sentiment that 'Tá Go Maith', a collection of new solo works, began to propagate.
In a spur of the moment decision informed by another valuable lesson learned in lockdown, that isolation and a generosity of time can do much to fuel the creative mind, Rónán Ó Snodaigh and Myles O'Reilly filled a car with musical instruments and decamped to a remote cottage, 'Shell Cottage' in Maynooth. Bringing with him a canon of new lyrics, inspired by deep and newfound connections with time, place, family, friends and… gratitude, Rónán found a nest in O'Reilly's minimal ambient textures, to lay some musical ideas. In the ethereal sound grown to characterise Myles ambient music moniker [Indistinct Chatter], songs were hatched.
Rónán's Gaelic lyrics and satin voice gently rip through the air like a soft breeze. You can sense the atmosphere of the woods outside Shell Cottage, and it feels inescapably like you too are there. Speaking about the new song 'Ar Ár Son' (On Our Behalf), Ó Snodaigh says "Philosophically I'm playing with an idea I stumbled upon from Muhammad Ali, he said "We / Me". All that's in me, is for you. So I'm juggling that around…
We're supposed to benefit each other, we're all supposed to interact with each other, that's how human existence should operate. Everyone knows we're all connected, and we might as well be kind to each other." IMRO website.
THE MESSAGES
The Messages are Donegal's Seanan Brennan (Bouzouki, Guitar, Vocals) and Cavan's Fiona Maria Fitzpatrick (Guitar, Vocals).
Like all good local shops, one can expect a rare mix of old and new goods and services.
Seanan Brennan
Seanan Brennan comes from Rossnowlagh, Co. Donegal. A prolific musician, composer and recording artist, he has toured the world times over with various legends of the Irish music scene and is a long-time member of Irish super group, KÍLA.
In 2020 KÍLA won an IFTA Original Music Award for Irish language film 'Arracht' and completed a third collaborative film score with French composer Bruno Coulais for Cartoon Saloon's Wolfwalkers. This sees the final installment in Saloon's "Irish Folklore Trilogy" following the Oscar nominated and multiple award winning The Secret of Kells and Song of The Sea.
"One of the most beautifully euphoric live experiences" BBC WORLD REVIEW
Fiona Maria Fitzpatrick
A performer from Co. Cavan, Fiona Maria has fronted various ensembles traversing styles from Jazz to Folk and has toured the boards as a solo artist and with her original female troupe 'The Darling Buds Of '. She is a member of Cavan's GONZO Theatre, has toured and trouped with world renowned Footsbarn Traveling Theatre and works regularly with Leitrim's own Big Guerilla, Actor and Writer, Seamus O' Rourke.
"…sits somewhere between the most optimistic Joni Mitchell and the bewitching Sean Nós singers of times gone by. Fiona Maria is reinventing the Irish Ballad for today's music lovers with her talent for story-telling and her beautiful lilting tones." InDublin Magazine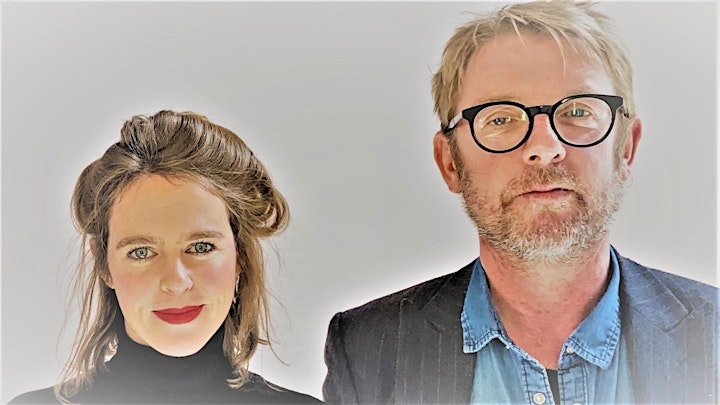 FOR ANY ENQUIRIES CONTACT US AT feelitfestival@gmail.com