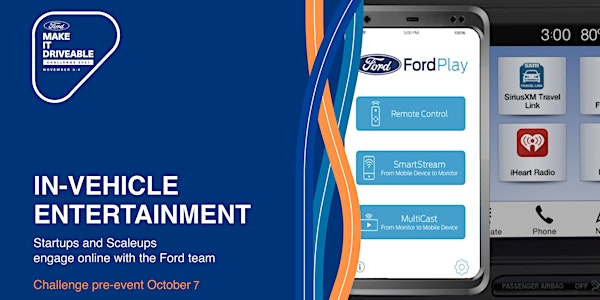 Ford Virtual European Road Trip: In-Vehicle Entertainment
Join and meet Ford for an opportunity to hear directly from its Business & Partnerships teams, and to pitch your ideas.
About this event
Prior to the eighth annual Ford Make It Driveable Challenge which will be virtual on November 3-4, hear and learn from the Ford team about how they work with startups ​and companies. Some companies will be selected to pitch their concepts and technology during the event.
Why Attend the Virtual Road Trip?
Pretty simple, the Road Trip is a great way for you to test out your idea on the Ford team prior to submitting an application to attend the main event in November. Attendees will have a chance to request 1-on-1 meetings during the event.
If your submission application ​to the main event is accepted you will have access to Ford executives, engineers, business teams as well as invited guests during a 2-day online challenge. A total prize package - 10,000 Euro's to be shared across 3 winning companies
If you have an idea that can enhance the Connected Car, "Beamed in" or a smartphone based app "Brought in", then the Ford Virtual MakeItDriveable Challenge is for you!
For the full details on the Challenge and what we are looking for this year we suggest you check out www.makeitdriveable.com.
Get in the car with Ford!
Ford team participating:
- Scott Lyons, Global Tech Partnerships, Ford Europe
- Andreas Brockers, AppLink Business and Partner Development, ​Enterprise Connectivity, Ford Europe
More to be announced!
Virtual Event Agenda (CET time)
14:45 - Virtual doors open
15:00 - Exploring the Automotive Opportunity with Ford, Scott Lyons & Andreas Brockers, Ford Europe
15:10 - Roundtable discussion with Ford Business Unit Executives
15: 30 - Startups pitching
16:00 - Networking with Ford
16:15 - Conclusion