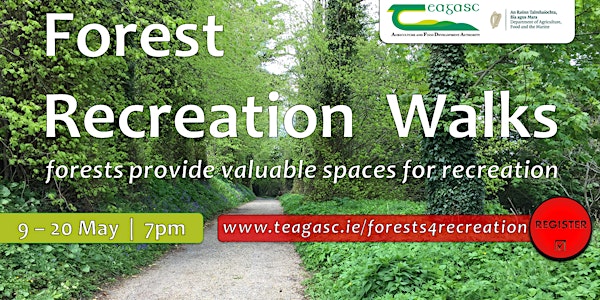 Forest Recreation Walk 2022 - Donegal
This event takes place on Wednesday 11 May 2022 and will focus on the importance of forest recreation.
By Teagasc - Forestry Development Department
Date and time
Wed, 11 May 2022 19:00 - 21:00 IST
About this event
Forests provide valuable spaces for recreation!
Teagasc in association with the Department of Agriculture, Food and the Marine (DAFM) are organising a nationwide series of forest walks between 9 and 20 May focusing on forest recreation. All walks will start at 7pm.
These walks will celebrate private forests where the owner has developed a recreational element to his or her forest.
Forests provide great outdoor spaces for local recreation. The health benefits – both physical and mental – are well documented. Going for a walk improves physical health, stimulates the brain, boosts wellbeing and helps us to sleep better.
With forest cover in Ireland amongst the lowest in Europe at 11% and with an increasing population, forests are becoming more and more important as safe and healthy places for recreation and relaxation.
This walk will take place on Wednesday 11 May 2022 near Manorcunningham, Co Donegal. We will visit a recently planted woodland featuring attractive walkways, pond and seating areas following a clearfell of a mature spruce plantation.
Please note: this walk starts at 7pm. Please wear suitable clothing and footwear.
Upon registration, you will receive an email with meeting point details including an Eircode.
About the organiser
The Teagasc Forestry Development Department provides integrated research, advisory, training and development support to the farm forestry sector in Ireland.