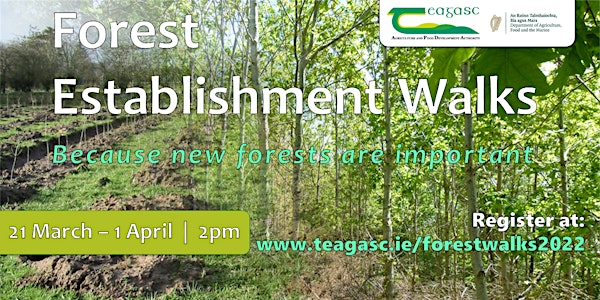 Forest Walk 2022 - Mayo
This event taking place on Tuesday 29 March 2022 will focus on a newly established native woodland and conifer plantation.
About this event
Teagasc in association with the Department of Agriculture, Food and the Marine (DAFM) are organising a nationwide series of forest walks from 21 March to 1 April focusing on forest establishment and the management of young forests. At these events, forestry experts from Teagasc and the Department will explain why it is essential to plant trees and care for young forests.
This walk will take place on Tuesday 29 March 2022 near Kilmovee, Co Mayo. We will be visiting a new forest with both native woodland and conifers for timber production. We will discuss how the forest was planted, future management, grant support and integration with farming schemes.
Please note: this walk starts at 2pm. Please wear suitable clothing and footwear.
Upon registration, you will receive an email with meeting point details including an Eircode.