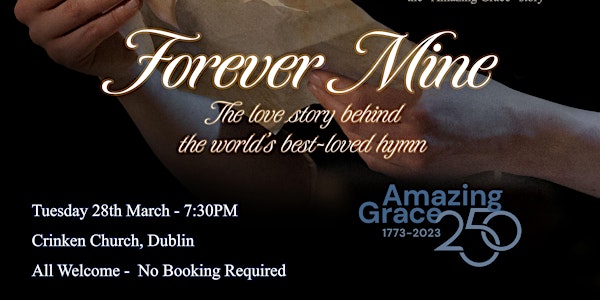 Forever Mine Dublin
Forever Mine is a brand-new costume drama telling the love story behind the world's best-loved hymn Amazing Grace in its anniversary year.
By Living Breath Production
Date and time
Starts on Tue, 28 Mar 2023 19:30 IST
Location
Crinken Church Dublin Road Bray Ireland
About this event
All are welcome - booking is not required but filling out the Eventbrite gives us an idea of numbers. Refreshments will be provided.
On 1 January 1773, in a small church in Olney, England the congregation sang a new hymn written by their minister to illustrate his New Year's Day sermon. Exactly 250 years later, Amazing Grace is the world's best-loved hymn and one of the most recorded songs of all time. At its heart, Amazing Grace tells John Newton's dramatic story.
Forever Mine is an original stage play and costume drama that explores this story through the lens of the two great loves of John Newton's life – his love for God and his love for "Polly" (his nickname for his wife Mary). Based on their love letters and on letters, diaries and authentic historical writings, Forever Mine is a true story of separation and reunion, death and new life, love, loss and redemption. Although set in the 18th century, this moving narrative will resonate with modern audiences.
Forever Mine also looks honestly at John Newton's role in the slave trade, even for six years after his conversion. It traces his slow journey to repentance and his later work supporting the campaign for abolition as mentor to William Wilberforce. The play elevates the lesser-known voices of the abolition movement such as former slave and writer Olaudah Equiano and the poet William Cowper.
Forever Mine is brought to life by a cast of professional actors starring Ellis Wells as John Newton, Susie Garvey-Williams as Polly Newton, Gideon Asuming as Olaudah Equiano and Ryan Moss as William Wilberforce.