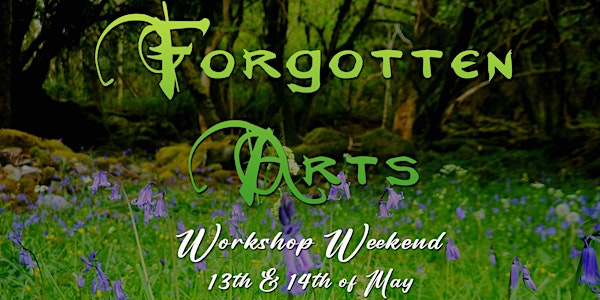 Forgotten Arts
Forgotten Arts will be a weekend of camping, crafts workshops, camp fires, sing songs and good craic.
Date and time
Sat, 13 May 2023 10:00 - Sun, 14 May 2023 08:00 IST
Location
Natural Events Shanacrane West Dunmanway Ireland
Refund Policy
Contact the organiser to request a refund.
About this event
For our first craft weekend we will have cob pizza oven building, Macramé and Spoon Carving courses on offer.
Each workshop has meals included .
Workshops will start at 10am Saturday morning.
Lunch fromm1 till 2 each day.
Evening workshops from 2 till 6.
Dinner 7 to 8
After dinner we will have a communal camp fire and we invite people to bring instruments if they like to play some music.
Breakfast will be at 8:30 to 9:30 Sunday morning with workshops starting at 10am
Cob Oven Building by Bakehus
It's a two day event that covers everything from building to actually cooking in the oven.
These courses are geared towards DIY enthusiasts of all ages, which means no power tools and time to get your hands dirty.
This course teaches you more than how to build a pizza oven as these techniques can be used to build walls, insulate them and plaster without actually building a whole house.
To build the oven we use natural and easy to source materials like clay, straw, sand and horse manure.
The Saturday starts at 10 am with theory session followed by the practical part that starts with prepping subsoil, laying the hearth, building the form and oven chamber
Sunday starts at 10 and continues hands-on with insulation and plastering the oven. The afternoon is about food and laughter while learning the tricks how to tame the fire and cook in a wood-fired oven.
Price €385 for 2 day course with food and refreshments and camping pitch.
Any inquiries please email us at info@naturalevents.ie
Spoon carving for beginners
This is a one day course on Saturday
This one day workshop covers carving techniques and safe tool use, aiming to send you home with your own hand carved wooden spoon or spatula.
Why carve a spoon? Aside from the obvious need for a tool to transport food from pot or plate to mouth, carving a spoon teaches us about wood types and the different qualities they have.
It teaches us how to harvest, split and season wood and a whole host of the most universally important carving grips and techniques that will enable you to successfully carve round timber using just hand tools. These carving skills are essential to anyone who uses sharp tools in the great outdoors and especially if you have an interest in slimming down on heavy carried kit by improvising certain items of equipment from green and seasoned wood found on site.
The principles of carving wood safely and efficiently are transferable and scalable meaning that if you can carve an eating spoon or spatula, you also know how to carve a replacement padde! Additionally, working with hand tools and wood teaches us to plan and think several steps ahead and break down a job into component parts in order to achieve an end goal, as well as developing a keen eye for detail.
Price €70 for 1 day course with food and refreshments.
Any inquiries please email us at info@naturalevents.ie
Macramé for beginners
This is a morning course on Saturday
If you are a macramé dreamer, creative crafter or lover of all things handmade then this course is for you.
Macramé is a type of textile craft that uses different knots to create decorative and functional textile items. A beautiful way to unleash your creativity, engage your brain and practice mindfulness while creating beautiful projects.
This course will guide you to create your very own plant hanger. You will learn how to set up your workstation and working environment. Then we will get right into it by learning the knots involved, with practical step-by-step guidance throughout the whole process.
Take your time to slow down and immerse yourself in this ancient craft. The best part is, you don't need much to begin with - just your hands and some cord!
Price €50 for a half day course with lunch and refreshments.
Any inquiries please email us at info@naturalevents.ie