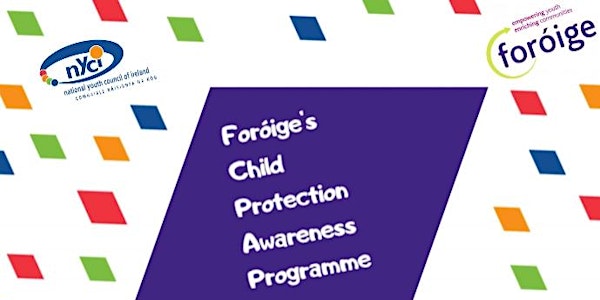 Foróige Child Protection Awareness Programme
Child Protection is of primary importance in Foróige and this training will give you a basic awareness of child protection and safeguarding
About this event
CPAP Training will take place on Saturday the 15th October from 10:00am to 3:00pm.
CPAP training is open to Foróige Volunteers from all counties. If you would prefer to complete the training locally, please contact your Club worker for upcoming dates.
Foróige believes in the potential of every child and young person. Our purpose is to enable young people to involve themselves consciously and actively in their own development and the development of society. We are dedicated to ensuring that young people have opportunities to safely engage in developmental structures, programmes and activities so that they can lead happier, healthier and more fulfilled lives.
We believe that the welfare and protection from harm of children and young people is of paramount importance in everything we do. Our staff and adult volunteers take all reasonable care to ensure that all children and young people involved in our clubs, groups, projects, services and programmes are protected from harm and abuse of any kind. Our commitment to safeguarding children and young people in Foróige is grounded in our philosophy which outlines the importance of children and young people being treated with respect, listened to and having their views taken into consideration.