Join us and learn about Volunteering with Foróige in your community.
About this event
Do you want to know more about Foróige? Maybe you think your community needs a Foróige club? Maybe you'd like to volunteer in a club but don't know how?There's always room for more adult volunteers in Foróige! Our volunteers are 18+ and from all walks of life and are located in every county in the state.
These clubs are about youth development: Volunteer leaders make it possible for young people to socialise safely, try new things, develop their confidence and self reliance, get involved in the community and have lots of fun. The volunteer gets loads out of it too – like a great relationship with local teenagers, training and being part of a team. We need close to a weekly commitment for about 2 hours, usually from September to May.
Join us on Zoom to learn about all things Foróige!
Find out more at www.foroige.ie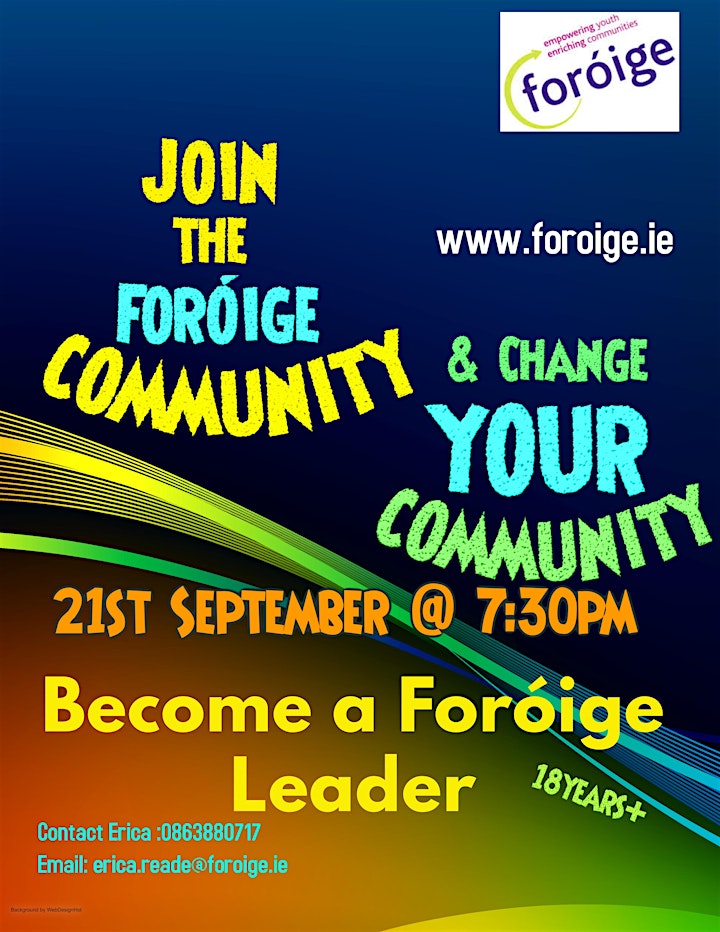 Organizer of Foróige Information Night
Foróige is the leading youth organisation in Ireland and has been working with young people since 1952. Our purpose is to enable young people to involve themselves consciously and actively in their development and in the development of society.

We work with over 50,000 young people aged 10-18 each year through volunteer-led Clubs and staff-led Youth Projects. Foróige currently operates in 26 counties in Ireland, with more than 600 Foróige Clubs, 150 Youth Projects, the Big Brother Big Sister mentoring programme, the Foróige Youth Entrepreneurship programme, our Youth Citizenship and Youth Leadership programmes.

Foróige works with all young people through our general services. Foróige Clubs, Foróige Juniors, Foróige Interest Clubs, Foróige Youth Cafés encourage young people to take responsibility for themselves and to be part of shaping the world around them while developing their talents, skills and abilities. We also work with vulnerable young people who require additional support through a full range of targeted services.