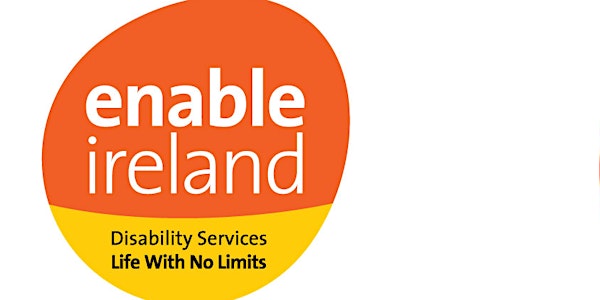 Foundations in Assistive Technology Course 2021
FOUNDATIONS IN ASSISTIVE TECHNOLOGY COURSE 2021 ACCREDITED BY TECHNOLOGICAL UNIVERSITY DUBLIN
Refund Policy
Contact the organizer to request a refund.
About this event

Enable Ireland's Certified Foundations in Assistive Technology is a 5 ECTS (European Credit Transfer System) course accredited by Technological University Dublin, through the College of Engineering and Built Environment. The course is delivered via 11 webinars on the Microsoft Teams platform and Moodle. In total, the time commitment is 100 hours: 21 hours via Teams and 79 hours of self-directed learning which includes completion of your course project. You will get the chance to hear from, and interact with, national and international AT experts, AT users and professionals working in the field. We will also use Teams to support group work, problem solving and case studies throughout the course.
Assistive Technology is a broad and fast-evolving area and this Foundations course is designed to equip professionals, AT users, families and caregivers with up to date and relevant information that will serve as a strong basis for supporting all who are already using, or could benefit from using Assistive Technology. Our goal is to support your learning throughout the process. Past participants have highlighted the benefit of group discussion, hands on opportunities with a range of Assistive Technologies (you will have full membership of our internal AT Loan Library for the duration of the course), and engagement with expert AT users.
We offer all of these resources to you as part of this course, and we welcome your feedback as you advance through the course. Please feel free to contact us directly if you have any particular queries or concerns about your participation or about navigating through the course itself.
MODULES:- Computer Access and Accessibility Features, Augmentative Communication, AT for Leisure, Environmental Control Systems, AT Assessment, Powered Mobility, Educational Software, Funding and Legislation, Integrating AT into the curriculum, workplace and much more.
OBJECTIVES:- To provide course participants with the skills and AT knowledge that they require, to ensure that AT users and potential AT users are central to the decision making process;
to increase course participants confidence in their own AT skills;
to provide course participants with an understanding of the tools and processes that are required to support AT users;
to de-mystify technology;
to promote best practice and encourage the development of online discussion groups post course.
WEBINAR SCHEDULE: *YOU MUST ATTEND EACH WEBINAR*
7th & 9th September
14th September
21st & 23rd September
28th September
5th & 7th October
12th October
19th & 21st October
PROJECT SUBMISSION BY 30th November 2021
Cost: €900.00 (*Participants must attend all live webinars, participate in online forum and group activities, and complete a course project to be eligible for accreditation*.
NB: SOME POINTS TO CONSIDER:
You will need a debit/credit card to pay for/complete the enrolment process.
Last date for enrolment is 2nd September 2021
FURTHER INFORMATION PLEASE CONTACT: sdeakin@enableireland.ie
*DATA PROTECTION NOTICE*:- At Enable Ireland we are committed to protecting the personal data we hold about you and following the introduction of the EU General Data Protection Regulation (GDPR) we are taking the opportunity to update our Data Protection Notice and provide you with further information about your personal data rights and how we use your information. To read our updated Data Protection Notice, please click here https://www.enableireland.ie/privacy-policy *NB* IMPORTANT GDPR INFORMATION* *After completion of your training, if you wish for your personal data to be permanently removed from Eventbrite's system, please forward the request to them at privacy@eventbrite.com Their support team may reach out to you directly to confirm the request.