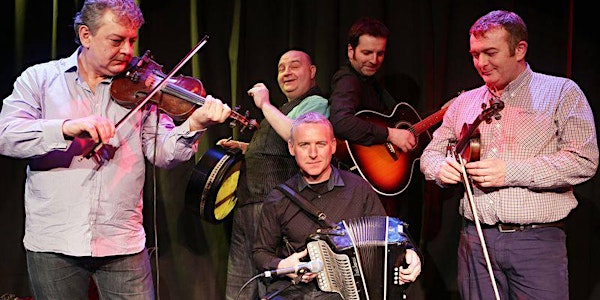 Four Men and a Dog - Patrick O'Keeffe Festival
Four Men and a Dog Sorcha Costello, Elaine Reilly, Kate McHugh Mick O'Brien and Padraic Keane play selected tunes from The Munster Pipers
When and where
Location
River Island Hotel Lower Main Street Castleisland Ireland
About this event
Four Men & a Dog made a name for themselves with their eclectic and vivacious blend of traditional Irish music with a wide spectrum of other genres, including rap, Southern rock, jazz, blues, bluegrass, polka, country swing, and even salsa.
Four Men and a Dog made their debut performance as a band in 'Murphy's Bar', Dungiven, County Derry, in 1991 before going on to steal the show at the Belfast Folk Festival later that year, with a high-energy approach that combines furious traditional dance tunes with irreverent new music and inimitable covers.
Barking Mad, their debut album from Cross Border Media, swooped an award for Album of the Year from Folk Roots magazine in 1991, marking the first time that an Irish group had ever won the prize. Four Men & a Dog's music is enthusiastic and infectious. The band have headlined some of the largest music festivals around the globe!
Four Men and a Dog have recorded 7 albums to date, their recent album entitled "And the band played on" was launched in May 2016 to celebrate 25 years touring around the world!
Discography
· Barking Mad (1991)
· Shifting Gravel (1993)
· Doctor A's Secret Remedies (1995)
· Long Roads (1996)
· Maybe Tonight (2003)
· Wallop the Spot (2007)
· And the Band played on (2016)
Cathal Hayden –
From Pomeroy in Co. Tyrone, Cathal's eponymously titled solo album, released in 1999 is, according to Irish Music Magazine, 'spiced by generous touches of blues from Hayden and (guest musician and honorary 'Dog') McGlynn, taking just enough from their folk-funk experiences to turn an outstanding traditional fiddle album into a toe-tapping, hand-clapping, knee-wobbling tour de force'. Cathal is also a member of the Mairtin O Connor band and have released two hugely successful albums.
Stephen Hayden –
Stephen, the most recent member of the band, is a younger brother of Cathal's and comes from a family steeped in traditional fiddle music in Co Tyrone. His style is vibrant and very dynamic which is the hallmark of the Four Men and a Dog sound. His duet fiddles along with Cathal, creates a powerhouse sound which encaptulates the audience. He has recorded with Cathal on his solo projects. He also runs "Haydens Bar" in Co Tyrone which is well renowned for the all night music sessions usually steered by Stephen himself.
Kevin Doherty –
From Buncrana in Co. Donegal, Kevin's debut album 'Strange Weather' was acclaimed as 'nothing short of a revelation' by Country Music International whilst his classic offering 'Sweet Water' has become popularised as the soundtrack to the hit TV series Watermelon - starring Anna Friel, Brenda Fricker and Sean McGinley. With 'a finely tuned ear for the modern beat poetry of isolation' - The Sunday Times - Kevin's lyrical creativity has long been central to the success of Four Men and a dog, an irresistible synergy of Irish Trad and bluegrass.
Gino Lupari –
From Magherafelt in Co. Derry, with numerous guest album and concert appearances with performers such as Kate Rusby, Ron Kavana and Liz Doherty amongst others, Gino has yet to produce a solo CD but rumours of a private members only Fitness Video still abound up and down the country. In serious demand as a session musician, Gino's talent is only limited by the size of his personality - and believe me, that's not dished out in small portions!
..... and finally,
Dónal Murphy
From Abbeyfeale, Co Limerick, Donal was one of the five founder members of the original Dogs, as glorious photos of the bare faced teenager will attest!
He is also a member of new 3 piece "Breaking Trad" with Niall Murphy (fiddle) & Mike Galvin (guitar/vocals) and released the same titled debut album in May 2015.
He is also a member of Sliabh Notes, alongside Matt Cranitch and Tommy O'Sullivan, they recorded three albums, 'Sliabh Notes', 'Along Blackwaters Banks' and 'Gleanntan' (on which Hot Press's Siobhan Long reported that Donal's accordion merited particular mention for its 'double jointed manoeuvres that somehow sound like they were born and reared in the ether, with neither hide nor hair of human interference.' ) Donal released the long awaited Solo album "Happy Hour" in 2009.
Donal's accordion plays a pivotal role in the unique sound that is Four men and a Dog!