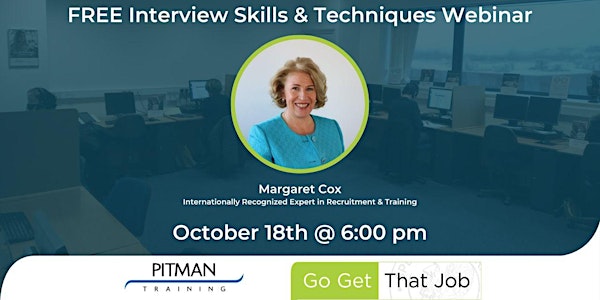 Free Interview Skills & Techniques Webinar
Hear from Margaret Cox, industry expert and author, on the best techniques to master your interview.
About this event
Register today for our Interview Skills & Techniques Webinar, taking place on October 18th at 6 PM.
Whether you're looking for your first job, a promotion or a career change, this webinar is for you. Learn how you can master your interview and get the job of your dreams!
This event will be hosted by Margaret Cox. Margaret is one of the most forward-thinking women in business today. As a pioneer of the 4-day working week in Ireland – Margaret is revolutionising the way both employers and employees can make the most of their week.
Margaret is an internationally recognized expert in recruitment and training and has spoken across the world to governments, trade bodies and individual SMEs.
BONUS: A FREE course for all attendees valued at €150!