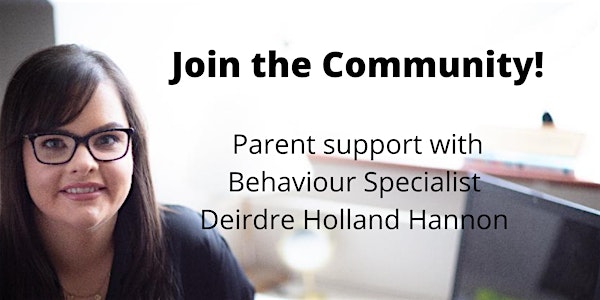 Free Online Parent Support Group - Thank You
This is a Members only parent support group hosted and moderated by Behaviour Specialist Deirdre Holland Hannon.
About this event
*This ticket will entitle you to attend the October 2022 online Parent Support Group only. This ticket is non transferable to any other group meeting or date.
What your memebership will include when you become a member of my Parent support community:
▪️Access to the monthly meeting where members of the community will meet and receive advice and insight with host and Behaviour Specialist Deirdre Holland Hannon.
▪️You will be issued a reminder when the group session is approaching, so you don't miss out.
▪️You will be able to submit your query or queries through out the month prior to the group.
▪️The support group will b on Zoom on the first Wednesday of every month at 8pm.
▪️Parent support group duration will be 1 hour.
▪️You will have continious access to my library of pdf visual tools and resources as part of your support recommendations. These have previously been exclusive to consultation clients and specific workshop attendees.
▪️Best of all we won't be tide into specific Q&A topics like we are at a group workshop. I believe this will make every group very valuable to our general parenting going forward and to our family as whole.