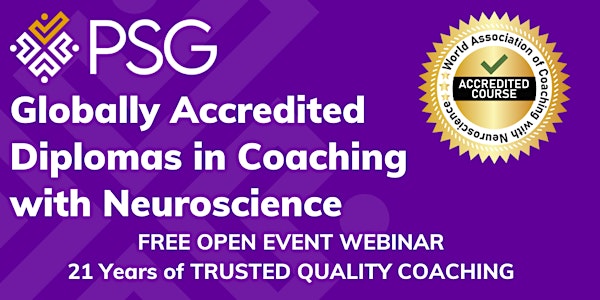 FREE Open Information EVENT, Coaching With Neuroscience 13th February
Coaching With Neuroscience, meet our award winning Global Academic Director
By Global Academic Director
Date and time
Mon, 13 Feb 2023 19:00 - 20:00 GMT
About this event
Register and find out more about
Coaching with Neuroscience( 7pm to 8pm)
Zoom Link will be sent on day of event
Join and meet the award winning Global Academic Director
Understand more about our courses on Coaching with Neuroscience and what it offers you in terms of Accreditation, applied experience, qualification and recognition in the Global marketplace
The following two courses will be discussed
1) Advanced Practitioner in Coaching with Neuroscience
2) Practitioner Diploma in Coaching with Neuroscience
Learn more about coaching in this FREE hour, experience for yourself the power of neuroscience and walk away with tips on how to manage yourself, others and your environment better.
Unlike other events you may find on offer, our events guarantee no obligation to sign up to any of our courses from this event. We are now the longest established and successful provider of Accredited Coaching Qualifications powered by Neuroscience. Our events and courses are open to International Students
---------------------------------------------------------------------------------
A little more about our courses:
Our Diplomas offer a full engagement experience with a blended learning mix of virtual content and online classes and lectures.
A unique opportunity to experience and qualify with the highly trusted and sought after PSG Master coaches. Benefit from our unrivalled 20 years real world expertise and experience in coaching application across industry and around the globe
Using the most evolved Coaching with Neuroscience models, Art-Neuroscience-Art, this future focused whole-system strengths approach meets the challenge of the most complex personal and professional agendas. Our curriculum is often at the core of business Coaching Cultures offering our gold standard TRUSTED QUALITY COACHING tools and techniques
Why Attend the Course?
This course will change your life! Places are limited so please register your wish to attend.
People attend the course for many reasons :
To become a Professional or Advanced Practitioner Coach - that could be as an Executive and Life Coach, Career Coach or whatever type of coach you want to be
For themselves for the personal development and to learn to Self-Coach
To up-skill and enhance their existing roles, e.g counsellors, therapists, HR, team leaders, managers
To have an additional or alternative income stream
To work in conjunction with an existing service, e.g. consultant, trainer, unqualified Coach, mentoring, Supervision, Counselling
To acquire a professionally recognised qualification - They may already be informally coaching but need a formal qualification that is nationally (and internationally) recognised
To learn how to help others (and themselves!)
Allow your life to take the leap...
News
Flexible interest-free payment plan available. Spread the cost over the duration of the course
Course fees are payable by a €250 deposit when registering and the balance payable at the start of the course OR payable in monthly instalments over the duration of the course
Instalments can also be paid before the course starts in order to spread the cost over a longer period.
All courses take place on either weekends or evenings to suit your lifestyle
Testimonials from March 2022
"I have grown new set of wings both personally and professionally.
Personally: Answers my curiosity 'Why we do, what we do' which was an ongoing quest for years. A deep dive into myself, who I am, how I impact the world. It has given me courage to stand for my own values and understand my emotions. Strength to ask for help and create healthy boundaries. Helped me to bin my self limiting beliefs and only buy empowering beliefs about myself. It has given me new pair of glasses that sees only the positive whilst acknowledging the weakness that makes me 'human'. A whole deep connection of my head, heart and gut in play .
Personally I am wearing the attire of humility and love!
Professionally: In my current healthcare space it has given me the opportunity to spread wisdom and above all opened a new door into the world of coaching .I know I will be a great coach who will use all the three amazing brains ,tools and techniques with confidence, grace to make a powerful impact into the world, to create a ripple effect of compassion, freedom embedded on the principles of neuroscience.
Professionally I will thrive on purity and Authenticity, no doubt!!
Cijy Thomas."
"Personally, the course has allowed me to see that all humans struggle with the same challenges be it a lack of self-belief, confidence, need for external validation, etc. It's awakened my love for neuroscience and learning, and I feel much better equipped to manage myself in difficult situations as a result of this course.
---
Professionally, the course has allowed me to move into a career that better aligns with my values of teaching, family, and developing people. Over the next few years I plan to move into coaching and training consultancy which will allow me greater flexibility so that I can spend more time with my two children and husband, and move towards greater self-actualisation: via writing, teaching, and consulting. ". - Diploma Student March 2022
---
"This course has supported me hugely from a personal perspective by encouraging me to express myself emotionally, helped me to self-regulate, given me a new language around neuroscience. Professionally it has enabled an ever-growing mindset around coaching with neuroscience. Given me the opportunity of a third career." Diploma Graduate 2022