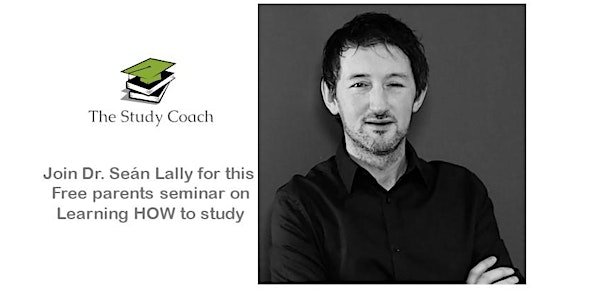 Free Parents Seminar on Helping Your Son/Daughter to Learn HOW to Study
This 1-hour seminar will look at how you as a parent/teacher can help students in secondary school learn HOW to study
About this event
Dr. Seán Lally will present to you on this virtual platform on several areas of studying and how we can help secondary school students in their learning journey.
We will look at:
Why learning is misunderstood and what we can do about it
The importance of creating CLARITY - why we need this and how we go about getting it
How to structure a study session optimally and why we should do so
What can help reduce procrastination and increase motivation and productivity
The benefits of a timetable and regularly revising it
Minimising distractions - what is the significance of doing so
I look forward to welcoming you to what have proven to be extremely popular online events over the past number of weeks.
I can be contacted at:
sean@thestudycoach.ie
if you have any questions about this talk or the junior and senior cycle student seminars I hold on learning how to study.
Seán Lally
www.thestudycoach.ie