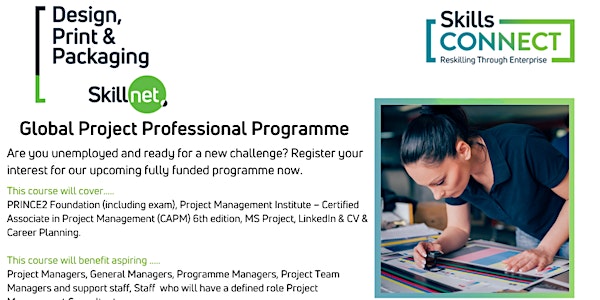 FREE PRINCE2 & PMI Project Management training for Jobseekers (Feb 2021)
Sales Have Ended
Registrations are closed
Ticket Sales have now ended. Please email skillsconnect@dppskillnet.ie to be added to the waiting list.
The Global Project Professional programme is an excellent opportunity for new and existing Project Managers looking to land their ideal role
About this event
The Design, Print & Packaging Skillnet and SureSkills are delighted to bring this fully funded globally recognised programme to the market for jobseekers who have been affected by COVID. This course will start in February and will be delivered Live Online.
If you have ever considered Project Management as a career, then you have undoubtedly come across PRINCE2® and PMI®, these are two of the top most respected project management accreditations, and are recognized globally and across multiple industries.
While both certifications endorse effective project management, their approach varies. CAPM®, based on the PMBOK® Guide is a standard whereas PRINCE2® is a methodology. CAPM® speaks about knowledge areas and processes while PRINCE2® is focused on themes, principles and processes.
Both certifications are highly respected and can validate your understanding of key project management concepts, and how to apply them throughout the project management lifecycle.
Project management certification is an ideal way to enhance your career opportunities and leave the competition behind. However, identifying the correct certification program for you can be the most difficult question. Luckily, you don't have to do this as SureSkills have developed a course that combines both.
** Pleasee read Eligibility Criteria - https://dppskillnet.ie/about/skills-connect/
Please note - to be considered for this programme you must attend an online information session.
This three week (part-time) programme will cover;
Week 1 – Project Management Essentials (2 days) & LinkedIn / CV & Career Planning (1 day)
Week 2 - Project Management Institute – Certified Associate in Project Management (CAPM) (6th Edition, 2018) (4 days)
Week 3 – PRINCE2 Foundation including exam (3 days)
This course would benefit existing and aspiring:
Project Managers
General Managers
Programme Managers
Project Team Managers and support staff
Staff who will have a defined role
Project Management Consultants
Approach:
The programme is designed to be very interactive and will balance discussions and theoretical inputs with practical skills and tools that individuals can use to develop their skills as project managers. The programme is designed to be an enjoyable, positive and challenging experience for the participants. It is also designed to be highly practical and focused so that the individual can implement the skills learned and get time to practice these skills during the training day.
If you wish to attend this program, you must complete the registration form and send your CV to the email address you receive upon registration.
Skills Connect - Eligibility Criteria
Please read the eligibility criteria below to determine if you are eligible to participate in our training for people who are seeking employment.
Eligible Individuals who are Welfare Payment Recipients
The Design, Print & Packaging Skillnet wish to target support for people who are current PUP recipients, and those who have previously been in receipt of either the PUP or TWSS.
However, we a also accommodate
(i) People who are currently unemployed
ii) People who become unemployed as a result of COVID-19, including welfare recipients
(iii) People who are not in employment and not in receipt of welfare payments, including women returners.
People in receipt of other forms of income support from DEASP may retain such payments subject to the Back to Education criteria of that Department. Other forms of income support include:
Disability Allowance
Blind Pension
Invalidity Pension
Illness Benefit
Supplementary Welfare Allowance
Adult Dependents
One Parent Family Payment
Back-to-Work Allowance
Back-to-Work Enterprise Allowance
Short-term Enterprise Allowance
Farm Assist
Rural Social Scheme
Programme Duration Conditions for Welfare Recipients
Programmes offered by Skillnet Ireland networks may be full or part-time and may be continuous or staggered over time. Programmes typically will incorporate a work placement, the duration of which is included in the overall course duration.
Programmes of 20 or less days' duration
Programmes of 20 or less days' duration may be pursued without prior approval from Intreo Offices/DEASP Scheme Areas. Individuals in receipt of a Job-seekers payment or other payment (listed above) should inform their local offices, wherever possible in advance, of their intention to participate in such short programmes.
Ineligible Unemployed Individuals
Skillnet Ireland, under its current mandate, does not provide training to unemployed people who fall into any of the following categories:
Current participants on Jobs Initiative (JI) Schemes
Current participants on Community Employment (CE) Schemes
Non-European Economic Area (EEA) nationals holding immigration Stamp 1, Stamp 2 or Stamp 3
Full-time students engaged in second or third-level education.
Important Additional Information for Unemployed Individuals
Please note that:
Once eligibility has been established, it is the responsibility of the Skillnet network to decide who participates in training based on the network's programme selection criteria
Network managers may seek information about previous work history, education and career aspirations to ensure programmes that candidates are interested in completing are relevant
If training occurs on the same day as a signing day, it is the responsibility of the learner to inform the INTREO Office and arrange an alternative signing day prior to commencing training
All trainees are required to complete relevant programme documentation including a Participant Profile Form and a Training Evaluation Form
After training is complete, learners may be contacted by Training Networks, Skillnet Ireland or a representative of Skillnet Ireland for the purposes of evaluating programmes and determining how learners have progressed since the completion of training
Learners must be resident in the Republic of Ireland
Please note there is a limited number of places available on this course
In the event that your CV is requested for the purposes of the selection process, please note that it will stored securely by us for the time span of the selection process only. It will be immediately destroyed securely once the selection process has been completed.