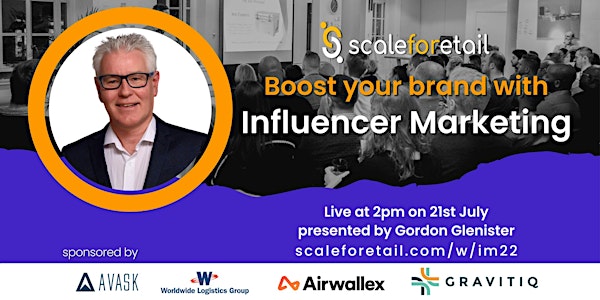 FREE Webinar: How to boost your brand with Influencer Marketing
Join us live for free featuring Gordon Glenister to learn the basics and give you a plan to get started with Influencer Marketing.
About this event
FREE webinar - just register on the LiveStorm website.
Influencers... you've heard of them, but do you know how to use them to grow your brand?
Do you know how to find the best ones, how to approach them and what to ask for when they reply?
If your answer is "no", "not yet" or "ummm....?" then this is the webinar for you!
We're bringing in Gordon Glenister to explain the basics and give you a plan to get started.
Gordon literally wrote the book on Influencer Marketing (his book was finalist at the Business Book of the Year awards), founded the Association for Influencer Marketing in 2019 and is Chief Strategy Officer for a global influencer marketing agency. We're delighted to bring this world class expert to the ScaleForEtail community.
Register now through the Scaleforetail Livestorm page:
👉 https://scaleforetail.com/w/im22 👈
Join us on the 21st to learn:
Current best practice around what effective Influencer Marketing looks like 🚀
How Influencer Marketing can grow your e-commerce brand 📝
How to plan your campaign - key considerations to set yourself up for success 🎯
How to find, filter and make first contact with the right influencers ⭐️
Who to avoid - not all influencers are right for you! 👀
What to track and measure to evaluate and optimise your campaigns 🕵️‍♂️
There will also be time for live attendees to get your Influencer Marketing questions answered.
If you're trying to grow your brand or build traffic to your e-commerce site or product pages, Influencer Marketing is an enormously powerful tool. When applied correctly the ROI and impact on your business is game-changing.
Join us to learn the fundamentals you need to succeed. Free of charge (thanks to our sponsors!).
Grab your ticket today, then join us live and watch the replay at your convenience.
👉 https://scaleforetail.com/w/im22 👈
Webinar presented by Gordon Glenister and hosted by Shelley Simone and Christian Morgan from ScaleForEtail. Content is the responsibility of the speaker and subject to change.
This event is free and a full replay will also be available to everybody that registers. There's no time like the present, so register today!
See you there!
The ScaleForEtail Team Christian and Shelley
Register now and we'll see you soon!