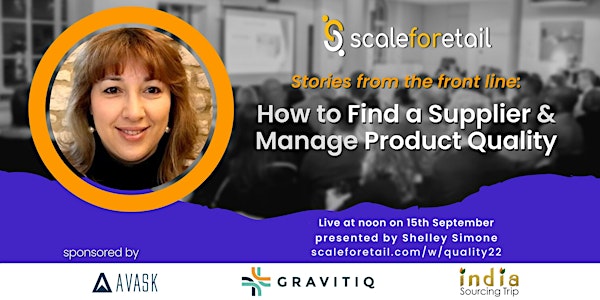 FREE Webinar: How to Find a Supplier and Manage Product Quality
Join us live for free featuring Shelley Simone to learn how to build your business on a solid foundation.
About this event
FREE webinar - just register on the LiveStorm website.
Choosing a great supplier is the first step. But what next?
You've heard that managing the relationship is important, but what do you actually need to DO?
Don't worry. Shelley is here to explain all!
Shelley has the battle-scars from doing things the wrong way... then learned the right way, the right processes and the right approach.
This is a new and unique session with content not shared on ScaleForEtail before - I hope you can join us on Thursday to be one of the first to learn these tips!
Register now through the Scaleforetail Livestorm page:
👉 https://scaleforetail.com/w/quality22 👈
Topics to be covered:
How to select and invest in the right suppliers
How to develop product standards with preferred suppliers
How to manage production quality issues with a system of incentives and penalties
How to use a system of POs, Vendor Agreements and a "special relationship" to make supplier relationships work like clockwork
Shelley will also share her templates with the audience, so join us live if you can!
Register now, then join us at noon on Thursday to learn Shelley's insider tips and tricks to tame your suppliers, improve your product quality and build your business on a solid foundation.
This event is free to you, thanks to our sponsors: AVASK, Gravitiq and the India Sourcing Trip. So register today and join us on the 15th.
👉 https://scaleforetail.com/w/quality22 👈
See you soon!
The ScaleForEtail Team
Christian and Shelley