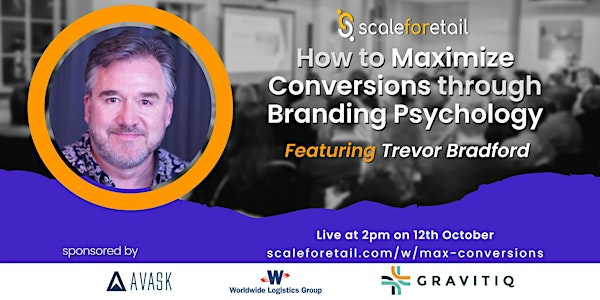 FREE Webinar: How to Maximise Conversions through Branding Psychology
Join us live for free featuring Trevor Bradford to learn how to use branding psychology to maximise your conversions
About this event
FREE webinar - just register on the LiveStorm website.
You've got a great product range. You've got e-commerce pages for customers.
But how do you connect with them? How do you encourage them to choose your solution and buy from you today?
You need to maximise conversions - and the keys to that are provided by Branding Psychology.
What's that? I'm glad you asked 🙂
It's about how to connect with browsers, build trust and maximise conversions amongst the people that your product can help.
How do you learn more? Don't worry... we're here to help you 🙂
Register now through the Scaleforetail Livestorm page:
👉 https://scaleforetail.com/w/max-conversions👈
Join us on the 12th October to learn:
🤔 Why branding is now the most important thing
🧠 The Emotional vs The Rational mind set
👭 Building trust to maximise conversions
❗ The importance of your brand personality
📝 The 7 Key Steps to create your emotionally intelligent brand
This session will be presented by Trevor Bradford. Trevor has worked with a range of brands, from e-commerce entrepreneurs like you to famous household names. His speciality is distilling "what the big brands do" into key steps that smaller sellers can follow to get the majority of the benefit without doing all the work. Trevor is also a branding consultant, Amazon seller and mentor in the Titan Network.
Register now, then join us on the 12th to learn how to use branding psychology to maximise your conversions - and make the most of the coming Q4 traffic! 📈
👉 https://scaleforetail.com/w/max-conversions👈
This event is free to you, thanks to our sponsors: AVASK, Gravitiq and WorldWide Logistics.
See you soon!
Christian and Shelley
The ScaleForEtail team