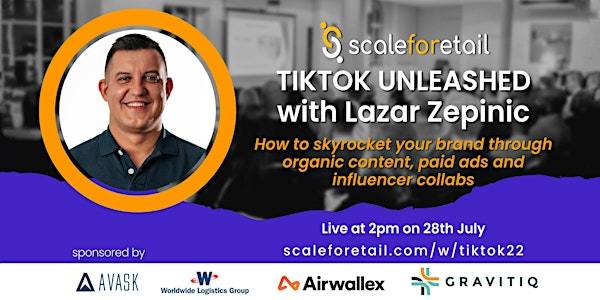 FREE Webinar: Tiktok Unleashed with Lazar Zepinic
Join us live for free featuring Lazar Zepinic to learn the key to unlock the power of TikTok and take your e-commerce business to the next l
About this event
How to skyrocket your brand through organic content, paid ads and influencer collabs
FREE webinar - just register on the LiveStorm website.
We're bringing the #1 rated speaker from Affiliate World to ScaleForEtail. This is a session you want to attend - and join us live if you can!
If you're selling products online you've heard of TikTok. That mysterious channel where the cool kids 😎 make a mint 💰... but you have no idea how to make it work for you, your site or your brand.
Sad times. 😓 We feel your pain - we've been feeling it too. 😅
Lets move forward together, de-mystify this channel and start using it to super-charge our brands. 💪🤩
Register now through the Scaleforetail Livestorm page:
👉 https://scaleforetail.com/w/tiktok22 👈
Lazar has an infectious energy and deep knowledge of TikTok - and how to make it work for e-commerce brands. This is one of the most important marketing webinars we'll run this year - I hope you can join us.
Join us to learn:
What's possible with TikTok, and how to apply that to your brand 🤔
How to advertise on TikTok to generate direct sales​ 💲
Tips to spark your creativity​ ✨🎨
Lazar's TikTok funnel strategy, and how to track the results ​📈
The detail: Case Studies to clarify - and inspire you​! 🔥
The plan: what you should do next to succeed on TikTok 📝
There will also be time for live attendees to get their TikTok questions answered.
TikTok is one of the most powerful platforms available at the moment. If you're not already using (and optimising) it then you're leaving money on the table. That ends on the 28th July, when you start to apply what you learn in this session.
Grab your ticket today, then join us live and watch the replay at your convenience. This session is free of charge (thanks to our sponsors!).
👉 https://scaleforetail.com/w/tiktok22 👈
Webinar presented by Lazar Zepinic and hosted by Shelley Simone and Christian Morgan from ScaleForEtail. Content is the responsibility of the speaker and subject to change.
This event is free and a full replay will also be available to everybody that registers. There's no time like the present, so register today!
See you there!
The ScaleForEtail Team
Christian and Shelley
Register now and we'll see you soon!