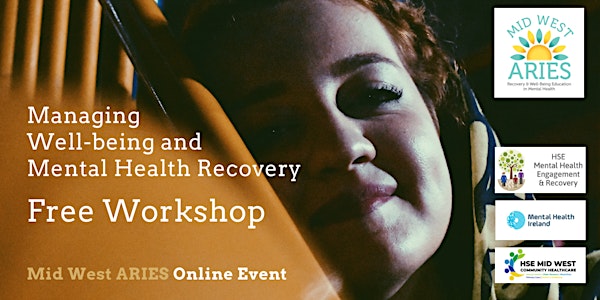 Free Workshop: Managing Wellbeing and Mental Health Recovery
Join us for our workshop when we will explore how we can manage our well-being on the road to mental health recovery.
Date and time
Thu, 1 Jun 2023 02:00 - 04:00 PDT
About this event
In this workshop we will build our knowledge of recovery and well-being in mental health and improve our understanding of how the mental health service works. We will explore how we can use the CHIME (Connectedness, Hope, Identity, Meaning and Empowerment) model as a practical recovery tool to maintain your recovery and well-being.
Who can attend?
Open to anyone (aged 18+) with an interest in mental health and well-being.
About the organiser
Recovery from mental health problems is possible. Mid West ARIES provides free, inclusive, transformative recovery education locally in the Mid-West and nationally online to help you or your loved one in their recovery journey.