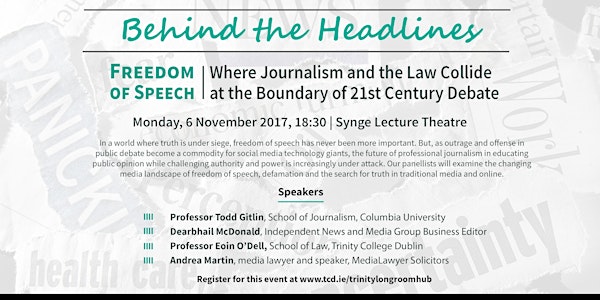 Freedom of Speech: where journalism and the law collide at the boundary of 21st century debate
When and where
Location
Synge Lecture Theatre Trinity College Dublin Ireland
Description
In a world where truth is under siege, freedom of speech has never been more important.
But, as outrage and offense in public debate become a commodity for social media technology giants, the future of professional journalism in educating public opinion while challenging authority and power is increasingly under attack.

For media outlets, defamation cases and crippling costs are on the rise. By contrast, commentary online and in social media from non-experts is flourishing without the corresponding checks and balances.

How do we deal with the 19th century defamation legacy as well as facing the challenges of public debate in the 21st? How do we balance freedom of expression with the need for responsibility and accountability?

In this latest Behind the Headlines talk, our panellists will examine the changing media landscape of freedom of speech, defamation and the search for truth in traditional media and online.

Speakers:
Professor Todd Gitlin, Columbia Journalism School, Columbia University
Dearbhail McDonald, Independent News and Media Group Business Editor
Professor Eoin O'Dell, School of Law, Trinity College Dublin
Andrea Martin, media lawyer and speaker, MediaLawyer Solicitors

This discussion is part of the 'Fears, Factions and Fake News' symposium held in conjunction with Columbia University and in partnership with Independent News and Media.