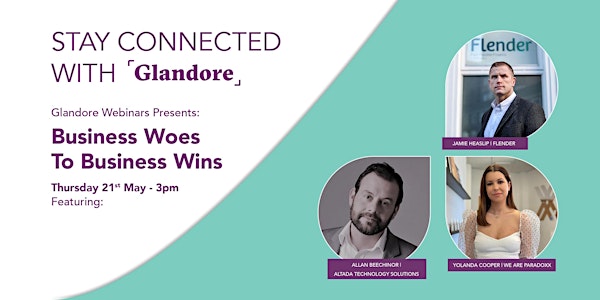 From Business Woes to Business Wins
From Business Woes to Business Wins
About this event
'From Business Woes to Business Wins' is an event we are hosting as part of the Glandore Virtual Event Series featuring Jamie Heaslip, Yolanda Cooper and Allan Beechinor, bringing together some of the top business minds from around Ireland and Northern Ireland to talk about their journey through business, the ups and the downs, the challenges and most importantly the wins that made it all worth it.
These events are usually run as part of our in-house 'Glandore Network' events but given the current situation we are hosting our first 'Virtual Panel Discussion' on the 21st May at 3pm with this stellar line-up.
We had previously branded this event 'Failure Isn't Fatal' and had a really successful night in Cork last year with Eoin Kennedy from Zone Digital, Cathal Doorley from Rezoomo and Niamh Parker from Alana. You can watch a short video from the event here.
The reason for the rebrand of the event is that we want to focus more on challenges, set-backs and then the wins as opposed to failures throughout the course of our panellists business journey's, people are as keen now as ever to hear some positive stories and suggestions on how they can help their businesses win!
Panellists
Jamie Heaslip
Head of Brand for Flender. When Flender was founded in 2015, it was clear to them that Irish businesses did not have access to the finance they needed to grow, while investors were making poor returns on their money. They had a great idea — bring them together in a safe and efficient way, and help them support each other. That's what Flender are doing now. Jamie Heaslip played professional rugby for 15 years captaining both Leinster and Ireland, during this time he invested in several successful companies across multiple verticals. When he retired from professional rugby he went on to work in Google full-time and dealt with some of the biggest advertisers in Ireland. Invested in the Flender business since 2017, Jamie joined as Head of Brand Marketing to help raise the awareness of Flender as a brand, business and community.
Yolanda Cooper
Founder of WE ARE PARADOXX. Yolanda believed firmly that in developing a beauty line, she didn't want to contribute to the planetary crisis that is plastic pollution. Yolanda has become somewhat of an accidental activist since the launch of WE ARE PARADOXX, focusing time and effort engaging, educating and inspiring consumers and beauty brands to make the switch from plastic to more sustainable, environmentally-friendly alternatives. Her 90% plastic-free line of high performance, natural hair and body care has taken the industry by storm and is now stocked in retailers around the world such as Harvey Nichols, Saks 5th Avenue, QVC, Urban Outfitters and many more.
Allan Beechinor
CEO and Founder, Altada Technology Solutions. With over 20 years of experience in artificial intelligence, machine learning, and data science, Allan is a well-established AI thought industry leader in EU. Allan is one of few technologists to feature in the Gartner cool vendor list, Magic quadrant and industry leader board for Privacy Management within two years, with the rare accolade of doing so concurrently with three different privately-owned companies for a specific use case. Allan was a key contributor to help develop the first MSc for Artificial Intelligence in Ireland. He contributed to The white paper 'Irish Programme for Government for AI' was published for the Minister for Innovation.
#WoestoWins #GlandoreWoestoWins