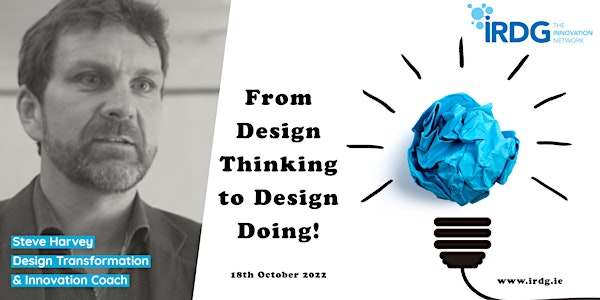 From Design Thinking to Design Doing!
What are the key success factors for design thinking to take seed within an organisation?
About this event
IRDG is delighted to bring you a special members-only complimentary virtual event with the internationally renowned, Emergent Futures Lab.
We've all seen and heard the proliferation of design thinking in recent years.  Whether your business is new to this topic of design thinking and customer-centred innovation, practice design thinking day-to-day, or feel you've more to work out, we're delighted to bring you the expertise of someone who has truly been there and worn the T-shirt!
Steve Harvey, Design Transformation & Innovation Coach, and most recently Global Head of Design Transformation, Logitech has vast experience of design thinking in practice.  He is a true champion of design thinking, with 15 years practicing, coaching and setting the "design doing" conditions for success. Focussed on the "doing" aspect of Design Thinking, Steve enjoys the challenge and often untold journey of Design Thinking - How to put it into practice on actual projects within real teams.
Steve will share personal stories of applying design thinking within projects, teams and organisations. Going beyond an awareness of design thinking he will share his learnings from the past 10+ years of building design thinking competencies within teams and departments. Steve will open and facilitate a discussion around what are the opportunities and challenges of a "Design Thinking" approach on actual live projects!
There is no charge for employees of IRDG member companies to attend this event, and multiple people are welcome. The link to join will be issued to all who register in the days prior to the session.
Contact Mary.Byrne@irdg.ie with any questions.