Multiple Dates
From Overwhelmed to In Control using Menstrual Cycle Awareness & Tracking
Event Information
Refund policy
Refunds up to 7 days before event
Do your hormones send you on a physical & emotional rollercoaster each month? Do you have NO clue about your OWN body & menstrual cycle?
About this event
QUESTION:
When you think about your period, or your hormones - what comes into mind?
"A nuisance.. A nightmare.. Unreliable.. send you crazy.. Irritable.. no libido.. uncontrollable cravings..."
These are generally the types of answers I get when I ask this question - which is SO understandable given how we are taught about our menstrual cycle (*cough cough* or should I say how we are taught NOTHING about our menstrual cycle)
The general theme is that women's periods should be dreaded, hidden, not talked about, suffered. We should push through the pain & fatigue. If we are moody we are "being difficult"
Well, I am here to show you how useful and amazing our hormones are AND how beneficial our menstrual cycle is.
Just like our hormones can contribute to our bad mood and cravings - they can also do the opposite.
Our hormones can control our sex drive, our motivation, our happiness, energy, reduce our appetite, increase our confidence - but all we are taught about are the bad sides
How would it feel to see our menstrual cycle and hormones as our superpowers? and learn how to use Menstrual Cycle Awareness & Tracking to live in tune with our body and improve your life?
We have approximately 400 periods in our lifetime - it is SO worthwhile knowing how to optimise your hormonal health
_________________________________________________________________________________
This Masterclass is for you if:
You have a natural menstrual cycle OR are on hormonal contraception - this is important to know either way, and you can still benefit from cycle tracking without a natural period.
You feel your hormonal symptoms rule your life and need to take action.
You want to use your cycle to benefit your life instead of feeling that it is a nuisance but don't know where to start.
You suffer with period problems such as PMS, painful periods, PCOS, Endometriosis and want to start to work on healing them.
You are in your 20s, 30s and want to learn about your hormones/body to feel confident and empowered
You are a mother and want to not only learn about your body for your sake but also to pass this on to your children.
Your hormonal symptoms can make you feel lonely, frustrated, like you are going CRAZY - and you would love to hear other women's experience.
You simply want to improve your hormonal health and relationship with your cycle to benefit your overall health or prepare to conceive - this is the first step!
What's Covered:
The menstrual cycle: what is ACTUALLY going on in your body every month and why this matters.
The 3 main players: Estrogen, Testosterone & Progesterone, benefits & signs of Imbalances.
Inner seasons of the menstrual cycle: how our mood, energy, emotions, hunger & libido are all dictated by our hormone fluctuations.
Cycle Awareness practice and tracking: HOW exactly you track your cycle and why
How you can use all of this to benefit all areas of your life!
After this masterclass you will:
Be more calm and confident during each phase of your cycle instead of blindsided, overwhelmed and scattered.
Actually feel empowered by your menstrual cycle and hormones!!
Feel armed with the knowledge to be a better advocate for your own health & happiness
Know how to adapt your lifestyle to the phases of your cycle.
What's included:
1.5 Hour Masterclass on topics mentioned
30 minute Q&A
Menstrual Cycle Awareness instructions booklet
Menstrual Cycle Tracker
This is the first step in understanding your own body & taking control of your hormonal health so you can truly THRIVE in life -
The MOST empowering thing you can do for yourself!
I am so excited to share this with you all :)
COME SAY HI before the masterclass - find me on Instagram @Leannemoran_com or email me any questions at Leanne@leannemoran.com
FAQ
The ZOOM link will be sent after sign up along with the Masterclass booklet, Menstrual Cycle Awareness Instructions and Tracker.
This will NOT be recorded, please only purchase if you can attend at the time.
You can keep your camera & audio off if you would like to be private.
See you there! <3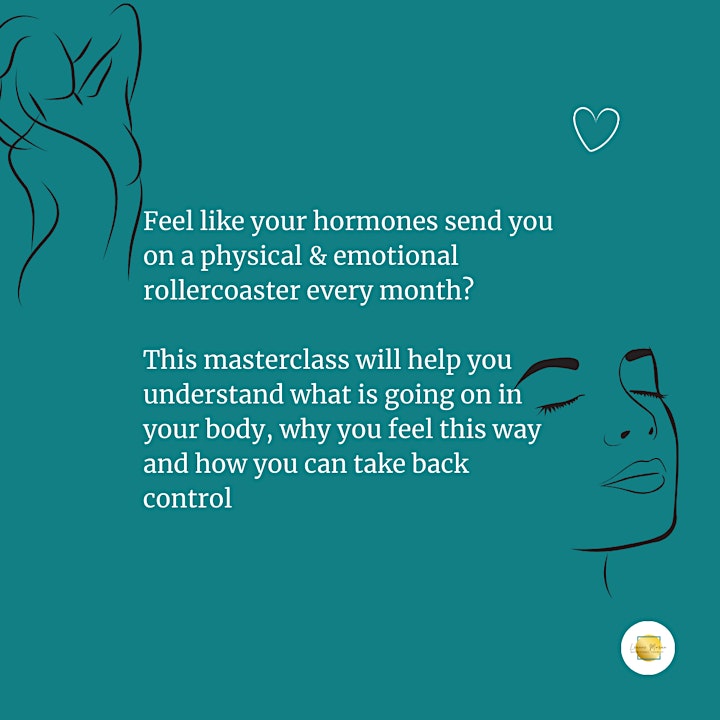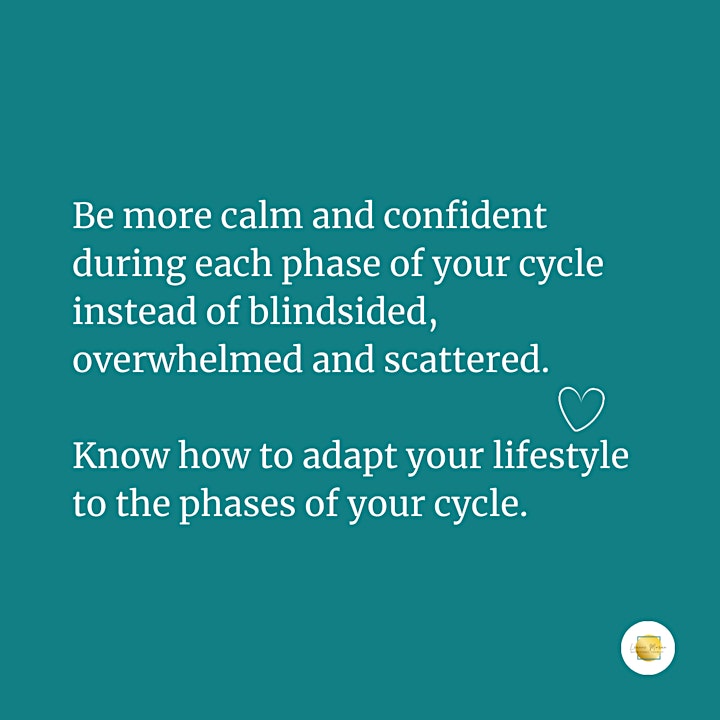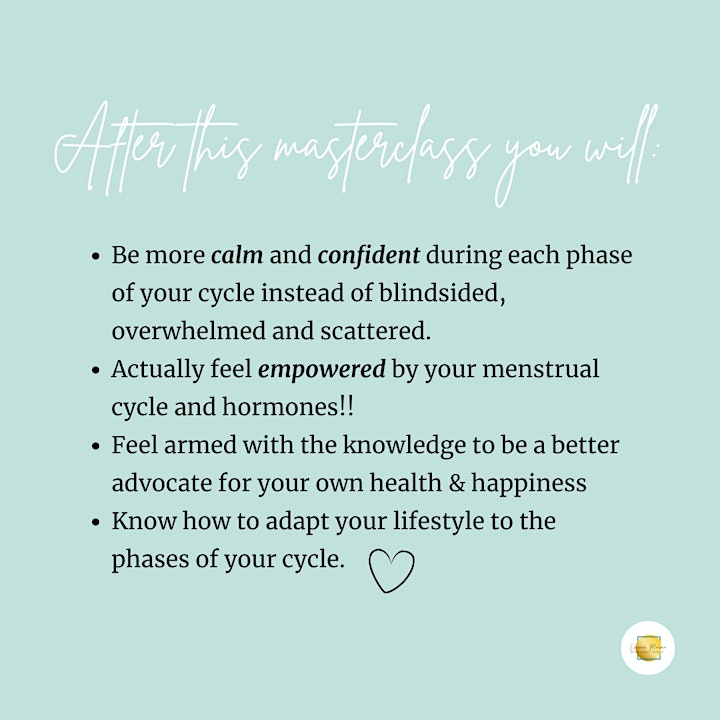 Location
Refund policy
Refunds up to 7 days before event
Organiser of From Overwhelmed to In Control using Menstrual Cycle Awareness & Tracking