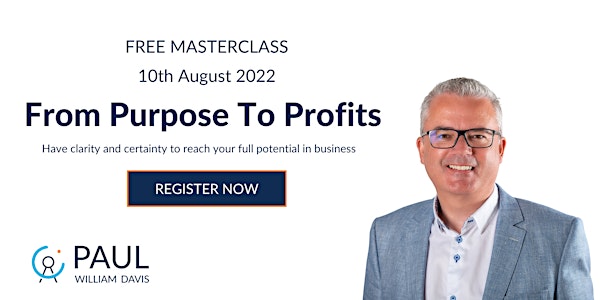 From Purpose To Profits Masterclass
Imagine knowing exactly what your life purpose is AND bringing that energy and focus back into your business?
About this event
Who this masterclass is for...
You're a business owner that has an inner feeling that you're here in this life to do something more meaningful and fulfilling, but you just haven't figured out what it is you're meant to be doing and what direction to go in.
You want a proven practical methodology that will give you the concrete answers you're seeking.
You want to get off the proverbial hamster wheel and reach your full potential.
During this masterclass you will discover...
The steps to find your true life purpose
How to achieve the level of profits and success you want in your business
Why it is more important than ever to be following your purpose
If you want to know...
WHAT exactly you are here to do in this life - what your mission is,
HOW you are best to fulfil your mission,
WHY you specifically are inspired to fulfil your mission, and
WHAT will bring you fulfilment, joy, passion and a zest for life
...and if you want to know how to turn your purpose into a business so that you can make a bigger difference (and get well rewarded for it!) then this masterclass is for you.
I'm a mission to help business owners discover their purpose in life, to live a fulfilled life and help them reach their full potential.
I have been putting people on the right track for decades using my empathic intuitive gifts. From years of working with hundreds of clients; the methodology that I have developed is hands-down the most accurate to determine what your true life purpose is, and which incorporates all the elements that you need to know with certainty and clarity what direction you should take your life in so as to fulfil your true life purpose.
I guarantee the results I get for clients to know what their life purpose is.
I can't wait to help you discover your life purpose and start living the life you are meant to live.
See you on the 10th August at 6:00pm Irish/UK time zone.