Event Information
Location
Breaffy House Hotel & Resort Mayo
Castlebar
Ireland
Description

Business Leaders Join Forces to Promote Female Entrepreneurs in Castlebar
FUELLING AMBITION: Steps to Success
26th April 2017 @ 6.30pm, Breaffy House Hotel, Castlebar, Co. Mayo
Enterprise Ireland and Network Ireland announce 'Fuelling Ambition - Steps to Success' Roadshow for female entrepreneurs in the West
Elevator Pitch Competition with prize package worth €4000
The 'Fuelling Ambition - Steps to Success' West event, organised by Enterprise Ireland and Network Ireland, in conjunction with the Mayo Local Enterprise Office (LEO) and the Entrepreneurs Academy, will take place in Breaffy House Hotel, Castlebar on Wednesday 26 April 2017 at 6.30pm. The event is free of charge to existing and potential entrepreneurs and business women. Booking is strongly advised.
Building on the successful 'Fuelling Ambition' initiative introduced in 2016, this year's roadshow will feature an Elevator Pitch competition with a prize package worth €4,000 at each location including:
10 sessions with Enterprise Ireland Mentors
Attendance at Enterprise Ireland's Excel at Export Selling training programme
Annual membership of Network Ireland
Leadership training programme with the Entrepreneurs Academy, a national entrepreneur development organisation
The event aims to encourage, support and drive the ambition of female entrepreneurs in the West and across the country. Lorraine Patridge, Team Horizon and Emma Killian, BriteBiz, two thriving Irish entrepreneurs, will share their business journeys and 'steps to success' at the event.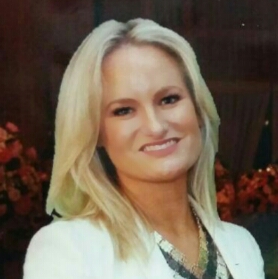 Emma Killian is co-founder and CMO of BriteBiz, a Galway based Technology Company that specialises in business management software. BriteBiz allows companies to scale rapidly and cut costs significantly with it's integrated systems - turning workloads from hours to minutes, making it easy for companies to do business.
Emma is a regular public speaker and also remains a director of Bentley Productions, one of Ireland's busiest production companies, which she was also a co-founder of in 2008.
BriteBiz is now scaling from its Galway office and has customers across Ireland, the UK and the US. The company is operating in the SaaS (Software as a Service) marketplace which is estimated to reach $300 Billion by 2025. Emma will share her experience of managing a domestic company and scaling and growing a SaaS company start up with global ambition.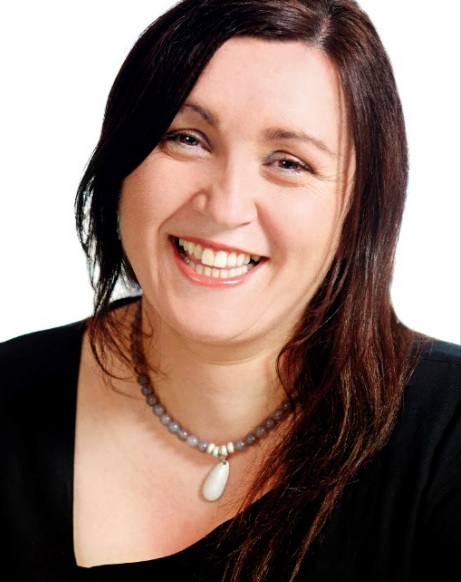 Lorraine Patridge is co-founder of Horizon, she graduated as a Mechanical Engineer from the University of Limerick and during her career has worked and travelled in the role of manufacturing principal technical positions in US and European Manufacturing Multinationals including; Abbott, Medtronic, Hewlett Packard, Vistakon, and Boston Scientific's European Distribution Centre in Holland. Lorraine lived for a half year in New York following 9/11 working in the world renowned Nathan S. Kline Institute for Psychiatric research focused on Schizophrenia ECG and MRI brain mapping techniques.
As a co-founder of Horizon from a start-up situation in 2010 her technical skills have been utilised to consult with multiple pharmaceutical, moulding and medical device clients in Ireland and UK utilising my high standard of individual accountability and extensive hands-on Project Management experience of combining people, process and systems. Engineering Chartership was attained in 2011 and is currently participating in Enterprise Ireland's Innovation for Growth program with the IMD Business School to drive and lead the creation of a new professional service offering, named SeriCode, focused on an full engineering solution for drug anti-counterfeiting and managing a current team of 8 engineers as part of the Horizon Projects offerings.
Representatives from Enterprise Ireland, the LEOs and Network Ireland will be on hand to discuss the wide range of supports available to female entrepreneurs and those thinking of starting their own businesses. The event will also provide an opportunity to network with like-minded entrepreneurs and business people.
Sarita Johnston, Head of Female Entrepreneurship, Enterprise Ireland, who will be in Breaffy House on the night said: "A key focus for Enterprise Ireland is supporting companies to start, innovate and scale by realising their growth potential and global ambition. We want to see more women starting their own businesses and more women successfully scaling their existing businesses. We are delighted to be working with Network Ireland, the Local Enterprise Offices and the Entrepreneurs Academy to connect with and encourage as many existing and potential female entrepreneurs as possible."
Caroline Gordon, National Executive, Network Ireland said: "Network Ireland is the leading networking organisation for professional women in Ireland. We are delighted to bring the 'Fuelling Ambition – Steps to Success' roadshow to the West this year to coincide with Network Mayo's monthly schedule of events. Lorraine and Emma have a wealth of business knowledge and I think it's a real opportunity for other business women to hear what they did to get to where they are today and to connect with like-minded entrepreneurs in the area".
Tanya Whyte, Mayo LEO said: "We will all learn so much from these entrepreneurs who have inspirational business stories. An exciting addition to this year's event is the Elevator Pitch competitions which are open to all attendees. A valuable prize package worth €4,000 at each event is up for grabs to help the winner with their own steps to success".
MC for the event is Maureen Walsh, Managing Director, DeCare Dental Operations and DeCare Dental Insurance Ireland based in Claremorris, Co. Mayo. Maureen is the Regional President of IBEC West.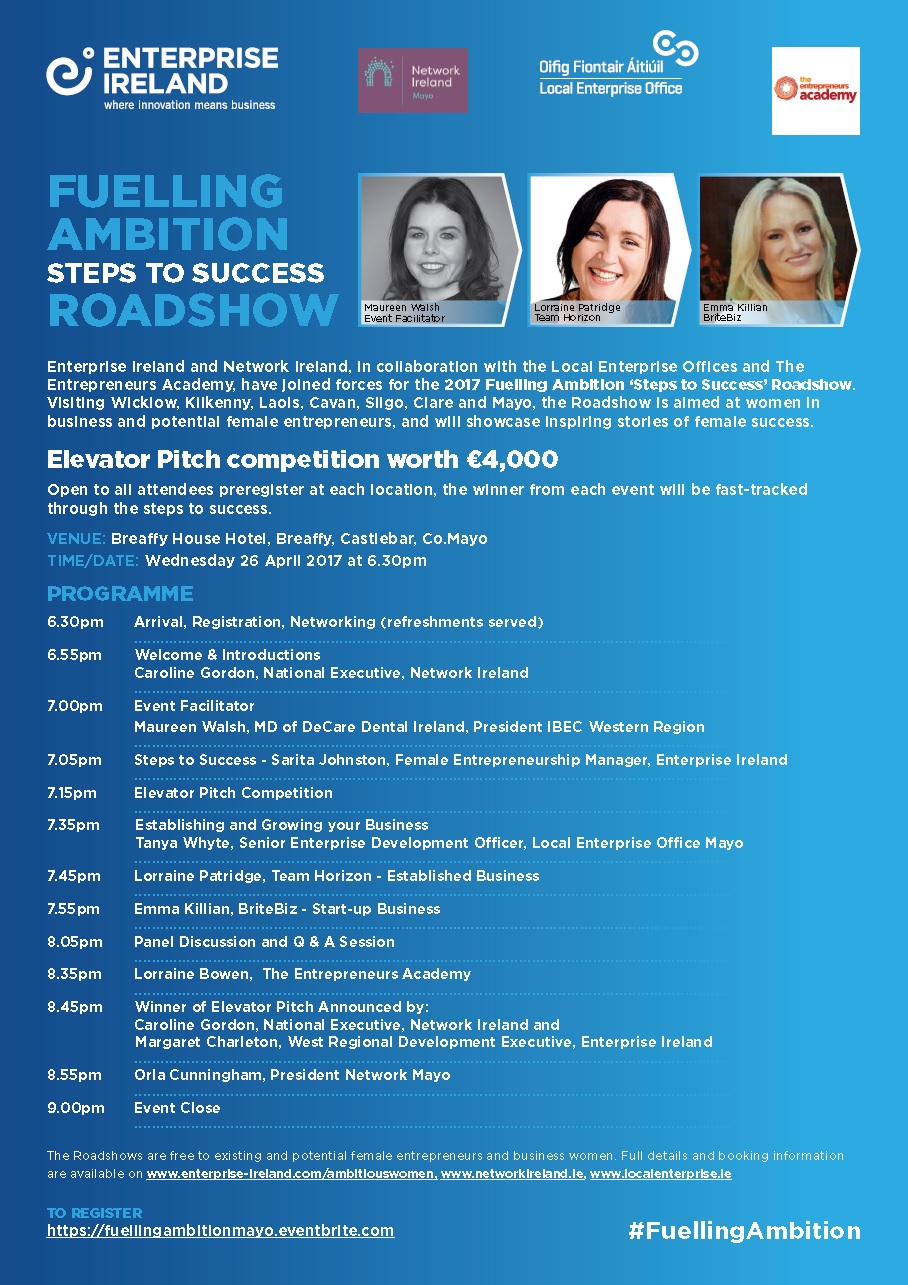 Full details on www.enterprise-ireland.com/ambitiouswomen ; www.networkireland.ie and www.localenterprise.ie/
Pictured announcing the "Fuelling Ambition: Steps to Success" roadshow Orla Cunningham President Network Mayo and Maureen Walsh MD of DeCare Dental Ireland & President IBEC Western Region, Tanya Whyte Senior Enterprise Development Officer Mayo Local Enterprise Office Margaret Charleton West Regional Development Executive Enterprise Ireland & Caroline Gordon National Executive Network Ireland
Criteria for One Minute Pitch
Selection for pitching will be based on the following criteria:
1. Assessment of the business, how many employees do you have?
a) Early Stage Business – less than 2 years
b) Established Business – 2-5 years
c) Advanced Business – Over 5 years
2. Why do you deserve to win?
a) Is the business Innovative?
b) What is your business strategy?
c) Do you have a business plan?
3. Ambition/drive/motivation of the promoter.
Rating
1 Falls significantly below the acceptable standard in respect of this criterion.
2 Falls below the acceptable standard in respect of this criterion.
3 Meets the standard in respect of this criterion.
4 Exceeds the acceptable standard in respect of this criterion.
5 Significantly exceeds the acceptable standard in respect of this criterion.
ONLY APPLICATIONS WITH RATING OF ≥ 3 ON EACH OF THE ABOVE CRITERIA PROGRESS TO PITCH, THE TOP 5 SCORING APPLICANTS WILL BE CHOSEN TO PITCH ON THE NIGHT.
Please Note the Decision of the Judges is Final.
Network Ireland is a progressive, dynamic organisation for professional women of all walks, supporting the professional and personal development of women. With key pillars of Leading, Supporting and Collaborating, the organisation has developed both a reputation and a quality distribution system for ideas and information. Network Ireland has 11 branches around the country, with over 600 firms represented nationally. Branches include Dublin, Louth, Cork, Limerick, Tipperary (North), Kildare, Galway, Mayo, Wicklow, Waterford and Kilkenny. They hold monthly meetings in each location.
Enterprise Ireland is the Irish Government agency that works with Irish enterprises to help them start, grow, innovate and win export sales in global markets. Enterprise Ireland partners with entrepreneurs, Irish businesses, and the research and investment communities to develop Ireland's international trade, innovation, leadership and competitiveness. In this way, we support sustainable economic growth and regional development, and help create and sustain employment in Ireland. www.enterprise-ireland.com
The Local Enterprise Office (LEO) is the First Stop Shop for anyone seeking information and support on starting or growing a business in Ireland. The Local Enterprise Office provides advice, information and support to you in starting up or growing your business. With 31 dedicated teams across the Local Authority network in Ireland, Local Enterprise Offices offer you a wide range of experience, skills and services. The Local Enterprise Office is for people interested in starting up a new business or already in business including; entrepreneurs, early stage promoters, start-ups and small business looking to expand.
The Entrepreneurs Academy is a national entrepreneur development organization that has trained and supported 30,000 start-ups and small businesses. Our vision is to build leadership capacity in microenterprise and SMES, especially within female led enterprises. The aim is to impact upon programme participant's leadership skills and create some strong leaders and role models.


Date and time
Location
Breaffy House Hotel & Resort Mayo
Castlebar
Ireland