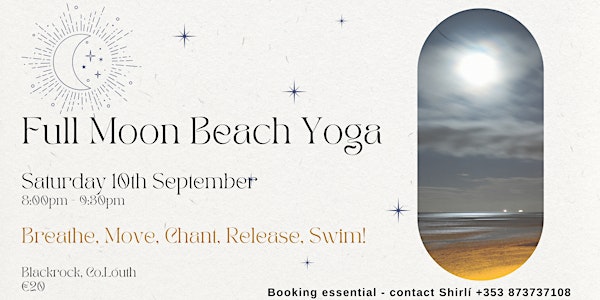 Full Moon Beach Yoga - September
Join me under the full moon as we take time out to connect to our intuitive wisdom, time to move, breathe, chant and release.
When and where
Location
The Priests Beach Main Street Blackrock Ireland
About this event
I have been celebrating the full moon on Blackrock beach for several years now and every single time the energy is pure magic! 💫
The event always attracts like minded individuals and is an opportunity for old friends to spend time together and also to acquaint with new ones.
Carving out a little time for yourself to engage in a Full Moon ritual is a great way to enhance your self-care routine.
🌕 When? Saturday 10th September
🌕 Where? Priests beach, Blackrock, Co.Louth (across from the church)
🌕 Time? 8:00pm - 9:30pm
🌕 Cost? €20/£20
🌕 Bring? Mat, blanket, pen & paper. Bring a cushion to sit on if you suffer with back pain or discomfort. Also bring a picnic if you would like to hang back afterwards to bathe in the moonlight.
🌕 Wear? Warm, loose clothing. Bug repellant if you wish but the sand flies tend to only bite in August.
🌊 High tide is 12:25pm
Our evening will begin with a breathing practice to help us to become fully present, followed by gentle movement with Moon Salutations. We will chant (or you can just listen) Sa Re Sa Sa for 11 minutes. The energy channeled in the mantra is centered around manifestation. Following our chant we will take some time to write down what it is we would like to release and let go of and also what we would like to manifest into our lives. Our evening will conclude with a guided meditation.
🌕 Breathing to balance the nervous system
🌕 Movement to clear stagnant energy
🌕 Chanting to bring clarity and increase intuition
🌕 Writing to help manifest your intentions into your life
🌕 Meditation to secure your intentions into your mind, heart & soul
🌕 Releasing into the fire pit our written intentions
Tuning into nature and the environment around us has been shown to help us understand ourselves on a deeper level. By coming into alignment with the cycles of nature we gain perspective and begin to build connection with ourselves once more. We are often so disconnected from our souls due to the business of life. Taking time out in nature helps us live life with more clarity and intention.
Waxing Moon Energy—When the Moon is waxing (growing), it is said to be an ideal time to manifest what you want.
Waning Moon Energy—When it is waning (shrinking), it is the ideal time of the month for letting go and cleansing.
Full Moon Energy—Cosmically speaking, the full Moon is the time of the month where energy peaks and it's the perfect time to cleanse physically or emotionally (letting go of negative thoughts, patterns, behaviours, and even relationships) and also a time fore tapping into creativity, writing down your intentions to help you to manifest them in your actual life.