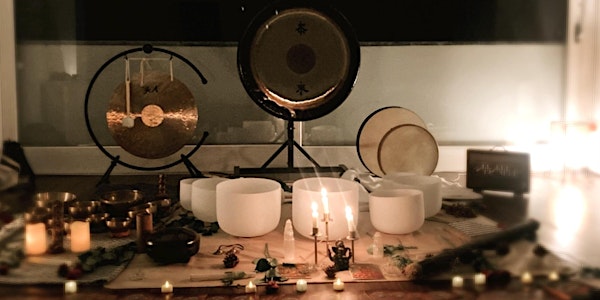 Full Moon & End of Year Cacao & Sound Ceremony! ( with Yoga & Journalling)
Join us Dec. 11th from 5pm-8:30pm to honour the Full Moon and the end of the year with a Moon/Cacao & Sound Ceremony. All genders welcome.
When and where
Location
Glasthule Road, Sandycove, Dublin Glasthule Road Sandycove Ireland
Refund Policy
Contact the organiser to request a refund.
About this event
Sunday December 11th from 5pm-8:30pm
Join us to honour the Full Moon in Gemini and the end of the year with this combined special! Learn how to best work with the last Full Moon of the year and get ready for the Winter Solstice and end of traditional year.
Take this time to slow down, to nourish and restore yourself before all the busy/craziness of the holiday season. Learn how to best work with these energies around us, get your manifestations ready for that new year. This Full Moon will bring us lots of emotions but also bring us lots of clarity, I've created so many beautiful rituals for us to work through these emotions and put those New Year intentions to work.
This Ceremony is open to all genders.
*What this event includes:
-Full Moon rituals
- Shamanic style Cacao ceremony
-Calling in the directions & our spirit guides
-Breathwork Practice
-Nourishing Yoga Flow (open to all-levels)
-Chanting
-Shamanic Journey (Shamanic style meditation)
-Gong & Sound Bath
-Journalling
-Card Pulls
-Sharing Circle
-Sea-view to watch the Full Moon rise
There will be very limited spaces available as this will be a small intimate group =)
*If you would like to avoid eventbrite prices email me at hello@awakenwithjess.com to pay through Paypal or bank transfer.
The exact address is " DBK Fitness, Glasthule Road, Glenageary, Dublin, 3rd Floor"
Wether you believe in the magic of the Moon or not, still come and experience this deep and super relaxing practice. I will be using 2 Gongs, Tibetan Singing Bowls, Crystal Singing Bowls, Shamanic Drum, Ocean Drum, Rainstick, Koshi Chimes and so many more instruments.
***Please make sure to bring your own Yoga Mat, and a blanket or enough layers to stay warm and cozy for the end of class, and a mug if you would like some hot tea, and a journal and pen for the journalling part. Feel free to bring any extra yoga props you might need like blocks, or straps.
Any issues finding the location or have any questions please message me at 083-024-9267 or email hello@awakenwithjess.com
You can also message me on Instagram @awakenwithjess_
Thank you so much!
I hope to see you there!
Love,
Jess