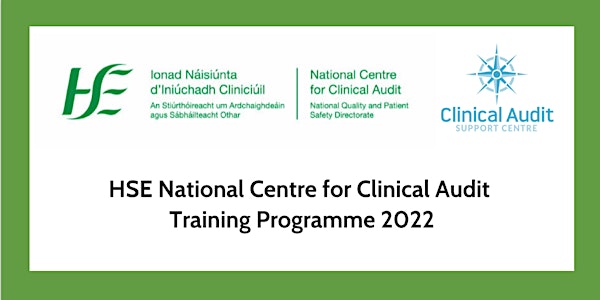 Fundamentals in Clinical Audit Half-day Workshop (14th Oct) afternoon
The Fundamentals in Clinical Audit workshop delivered online with traditional classroom methods and virtual classroom sessions, using Zoom.
About this event
The HSE National Centre for Clinical Audit (NCCA) provide a national focus for clinical audit to ensure that those who are conducting local, regional, and national audits have access to best practice information.
The NCCA are delighted to present to you the Fundamentals in Clinical Audit virtual training course delivered over one full day, developed in collaboration with the Clinical Audit Support Centre (CASC) in the UK.
The training is interactive and provides a wealth of educational resources and further signposting.
Eligibility Criteria
We would expect those enrolling to have limited or no experience of clinical audit and to have completed the Fundamentals in Clinical Audit session virtual programme (one full day) or have completed the Fundamentals in Clinical Audit e-learning programme on HSeLanD.
Note: It is strongly advised that learners enrolling on this programme have completed the Introduction to Quality Improvement e-learning module which is hosted on HSeLanD.
Design and Delivery
Programme will run from 13:00hrs to 16:00hrs
Workshop Session (half-day)
13:00 Registration
13:10 Welcome and Introductions
13:20 Developing the Clinical Audit Methodology
- Project Planning
- Approaches to collecting data
- Development of Audit Tools
- Development of Patient Surveys
- Choosing an appropriate sample for the clinical audit
- Workshop exercise to develop a clinical audit method and data collection tool
14:45 Break
15:15 Feedback session
- Learners presenting their project development and plans
16:00 Close