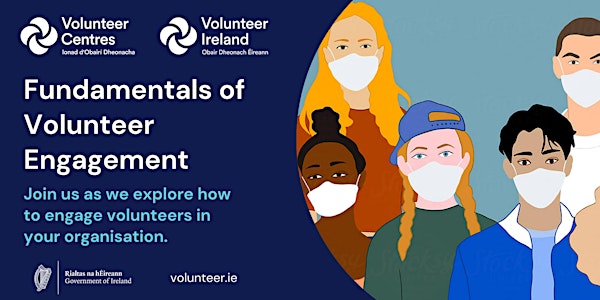 Fundamentals of Volunteer Engagement (Oct 18th & 20th)
Fundamentals of Volunteer Engagement is a new 2 module online course designed to meet the needs of volunteer managers in a changing world.
About this event
This two module course is for those who are new to the topic of volunteer management and leadership or who wish to improve their skillset. This two module course takes place on Tuesday September 20th and Thursday 22nd September starting at 10.00 on both days and you need to attend both modules. The sessions are delivered by trainers from the Volunteer Centre Network and Volunteer Ireland. In the two sessions you'll explore the following topics:
Planning for volunteer involvement
Changes in volunteering
Diversity and inclusion in volunteering
Volunteer motivations
Volunteer and organisation expectations
Barriers to volunteering
Volunteer engagement
Screening and selection
Day to day engagement of volunteers
By the end of this course you should be able to:
Be clear about how volunteering fits into your context and the opportunity it provides
Understand the importance of volunteers and be able to communicate this to volunteers and other stakeholders
Understand that volunteering is a two way process with gains for all involved
Booking and registration information
Once you register for this course you will receive an email from Eventbrite which will contain the Zoom log in details, please retain these.
Applicant organisations must be volunteer led projects and based in the Republic of Ireland.
A maximum of two participants from one organisation can attend any course during 2021 / 22, this is to ensure fairness and as many organisations as possible are able to avail of this free training. If you aren't currently registered with your local volunteer centre please get in contact with them prior to registration. 
If for some reason you can't attend please cancel your booking via Eventbrite so other organisations can attend. 
Please allow up to 2.5 hours for each module. Slides and handouts will be emailed to you after the course. Participants are required to complete a short feedback form after the course. A digital certificate of participation will be issued 7 days after the course and will only be issued for learners who attend both module 1 and module 2.
This training is designed by Volunteer Ireland and the network of Volunteer Centres and supported by the Government of Ireland.