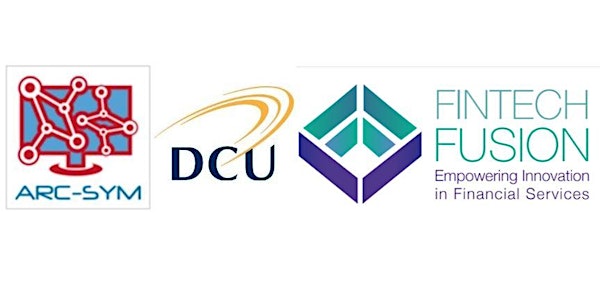 Future of Fintech. Impact of Digitalisation and Brexit.
When and where
Location
DCU Alpha Innovation Campus Old Finglas Road 11 Glasnevin Ireland
Description
FinTech has been embraced by 33% of digitally active consumers (EY, 2017) New applications enabled by FinTech can create regulatory ambiguity if no clear guidelines are provided.
Experts and leaders in Fintech, Artificial Intelligence, and Compliance will come together for an engaging day of Future of Fintech, Impact of Digitalisation and Brexit on Fintech discussions. It will provide insights into current research, approaches in industry, and benefits.
The workshop will address impactful and compelling innovations and disruptive transformations affecting the business world today.
Topics include Updates of Fintech Ecosystem in Ireland, Impact of Brexit on Fintech, Leveraging the Data Office structure to ensure management buy in and optimise data quality, Evolution, adoption, and challenges of Fintech in Ireland and internationally, AI in Fintech, Impact of Digitalisation, Fintech Fusion, Empowering innovation in Financial Services, Future trends in Banking, Fintech Innovation, Blockchain explained, Innovative method of authentication with Blockchain, Blockchain for Secure Infrastructure in Financial Services, and more.
The attendees will learn trends and challenges of Fintech management. We will also have a panel with experts debating on Challenges and Future of Fintech.
Speakers:
Michael D'Arcy, Minister of State at the Department of Finance and the Department of Public Expenditure and Reform with special responsibility for Financial Services and Insurance.
Peter Oakes, FintechIreland Founder, Non-Executive Director at multi-award winning TransferMate(InterPay Ltd) and at Susquehanna International Securities, CompliReg Founder, Advisory Board member of Corlytics, Ignition Wealth, Kyckr Limited, and FintechCity
Peter Dunne, Chief Data Officer, Bank of Ireland Group; serving on ICAI IT Services Committee
Laura Smyth Managing Director of Top Tier Recruitment within FinTech, BlockChain and Financial
Klaus Sonnenleiter, CTO of ELEKS, CEO at Luftronix, Advisor to JPG Mag
Jonathan Ryder, EY IT Advisory Director - Payments and FinTech
Pete Townsend Founder and CEO at Norio Ventures, Principal at Thestartup.com, podcast co-host at MoneyNeverSleeps, Non-executive Director at Coinbase, Fintech lead at Scottish-Irish Finance Initiative, Strategic Advisor to QPQ Limited, FXCH Ltd, Spire.works; Advisory Board member at Circit.io
Barry McCarthy Founder and CEO at Assure Hedge
Coral Movasseli Managing Director, Girls in Tech Inc
Fintan Byrne, Chief Compliance Officer, CurrencyFair. Fintan serves as a Director of the Association of Compliance Officers in Ireland (ACOI.) He has also held various senior compliance roles with Arab National Bank
Alan Costello, NDRC Venture Investment Leader, Director at StrategyCrowd, Non-Executive Director at Klir, HUB Controls Ltd, The Mill Enterprise Centre
Joe McLaughlin, Deloitte Manager, AI research; Part-time Lecturer at Dublin Business School on MSc in Financial Technology
Laura Clifford, Senior Executive Manager - Fintech Fusion and Industry Partnerships Manager at ADAPT Centre; Founding Member at BlockW
Robert O'Reilly Barrister-at-Law and Strategic Counsel at Vulcan Consulting
Hitesh Tewari, Investigator on a FinTech Spoke at ADAPT Centre; Associate Professor, Trinity College Dublin: Computer Networks, Security, Mobile Communications, Electronic Payment Systems
Mark Cummins, Director Irish Institute for Digital Business; Professor Of Finance and Head of the Economics, Finance and Entrepreneurship Academic Group at Dublin City University Business School.
Martin Crane, Arc-Sym Director, SFI Funded Investigator at ADAPT, FinTech Fusion InsureTech Theme Lead, Assistant Head of School, School of Computing, DCU
Markus Helfert, Director of the Business Informatics Group at the School of Computing, DCU SFI Funded Investigator at Lero - The Irish Software Research Centre, Adapt – The Centre for Digital Content Management and Insight – The Centre for Data Analytics.
Marija Bezbradica Fintech Fusion Adapt investigator, DCU lecturer in Data Analytics and Machine Learning
Admission includes refreshments and lunch.
#Fintech #Digitalisation #Brexit #Compliance #Innovation #Blockchain #AI #Banking