Join the DT-LAB@UCC in a live debate with experts discussing how we can rekindle our relationship with Nature in the future of work
About this event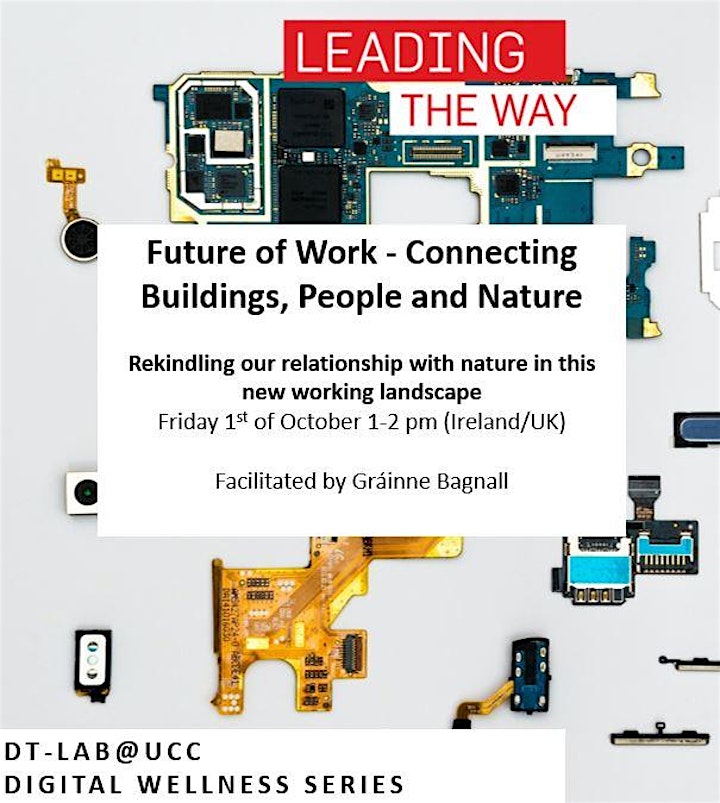 As society starts to re-open, employers and employees are looking at blended models of home and office working.
Workplaces are becoming increasingly dynamic with organizations exploring growing options around how employees work, where they work, and more importantly their relationship with nature.
However, employees remain both excited and fearful at the prospect of meeting colleagues face-to-face in shared physical work spaces.
Research has shown that time in nature increases our creativity, improves well being, but all too often this time is reserved for weekends and holidays. Time in nature is not considered in the design of most physical work spaces..
In this the latest episode of our Wellness Series of live discussions, the Digital Transformation Lab @ UCC will bring together an expert panel to explore related topics, including:
• A review of the origins of biophilia and biophilic design as a way of developing a non-destructive relationship with the environment through a love of all living things.
• How creating a healthy built environment increases productivity and fosters innovation.
• Simple steps to get started at creating a culture that brings building and people/employees closer to nature and improves mental wellbeing and health.
• Exploring the benefits of nature and discussing practical examples of how to bring these benefits into our everyday working lives.... to improve health etc.
• Challenging our beliefs around how we can introduce nature into the work environment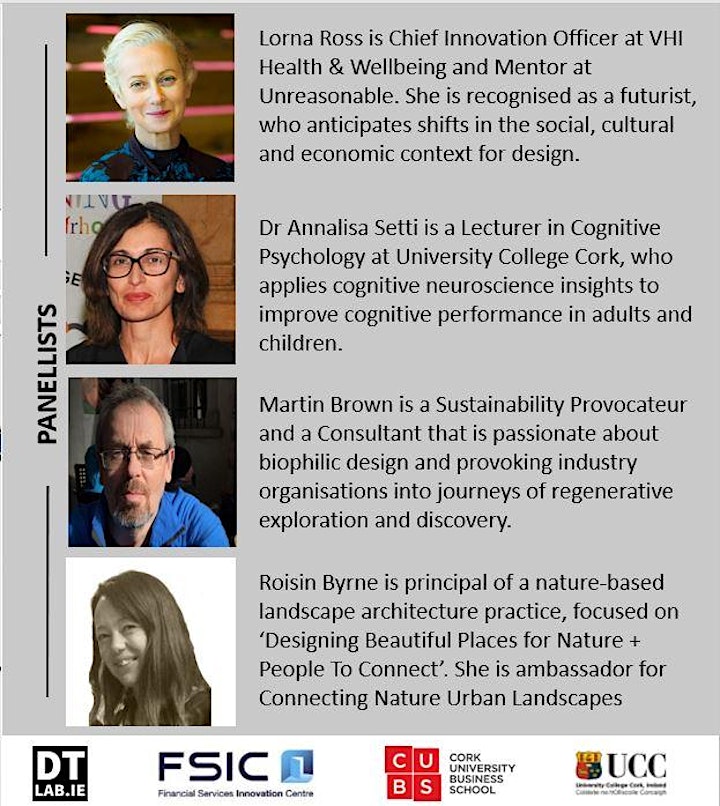 The Digital Transformation Lab is a network of stakeholders interested in developing, validating, and sharing best practices in Digital Transformation. We do this through: (1) supporting peer-to-peer learning within the network; (2) undertaking and sharing research findings; (3) organising regular online and face-to-face networking events; (4) organising thought leadership events and masterclasses; and (5) using podcasts, blogs, and social media activities to share our message'.
Join us for this and future events in the DT-LAB Digital Finance Series.
View some of our previous events here. Follow us at: