Description
The future of cybersecurity is now. As cyber attacks grow increasingly sophisticated each year and regulations are changing, companies need to anticipate developments and stay ahead of the curve. The widespread adoption of Artificial Intelligence and cloud technologies coupled with the increasing demand of new cybersecurity skills means one thing: staying on the cutting edge of cybersecurity and skills development. Leading organisations in the security space are gathering on September 24th 2019 at the Cork Opera House to join forces and discuss the future of cybersecurity. Come mark the launch of the first and biggest cybersecurity conference in Cork and join us in shaping the future of cyber.
The conference will include a series of keynote presentations, panel discussions and briefings held by cyber security practitioners and thought leaders operating at the very cutting edge of the industry.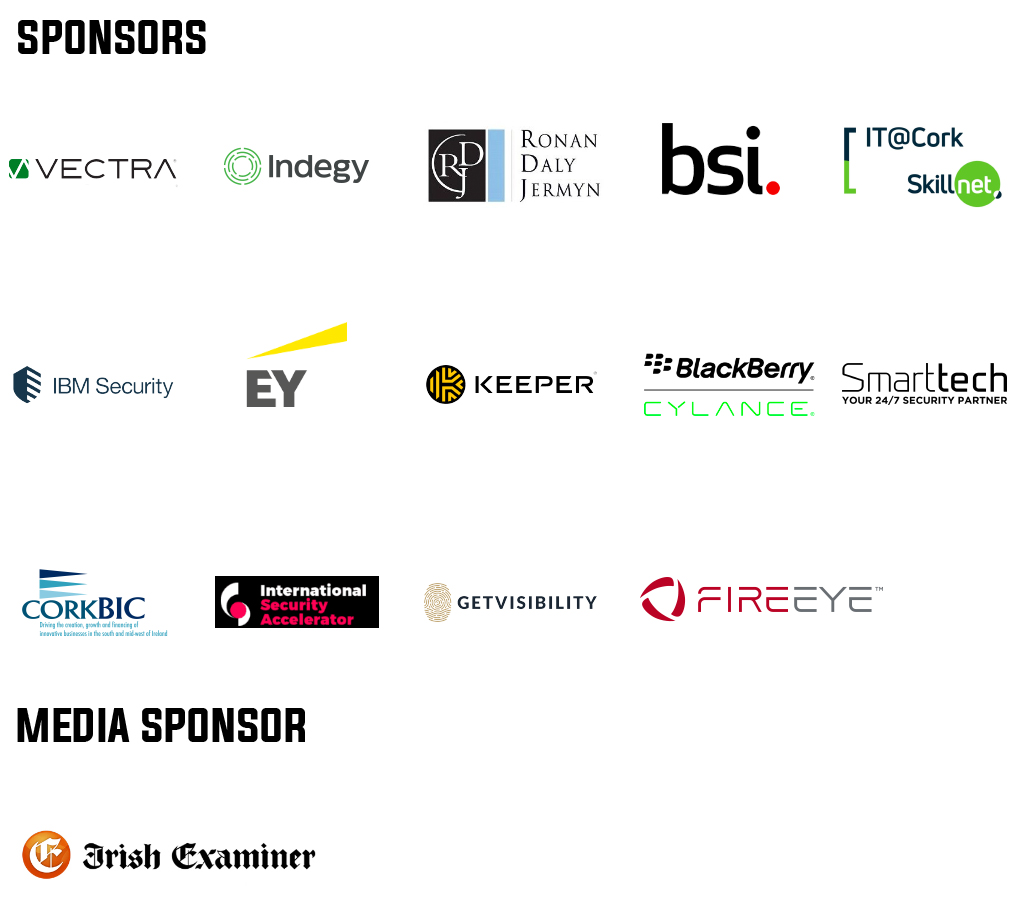 Conference Schedule:
13:15 – 14:15 Registration and Networking
---
14:30 - 14:45 Opening Remarks - Ronan Murphy CEO Smarttech247
---
14:45 – 15:10 Koos Lodewijkx – IBM VP / CISO
---
15:10 – 15:40 Securing our Modern Business Environment
Speakers:
Ian Brennan – Director of IT, Laya Healthcare
Donna Creaven - Director of Corporate Services for the Irish Prison Service
Eoin Keary – Edgescan CEO
Kevin Kennedy – VP Development, Vectra
Mille Gandelsman - Indegy CTO and Co-Founder
---
15:40 – 16:00 Exclusive Short Session
Live WiFi Hacking Simulation: How Your Data Can Be Stolen In Just 10 Minutes
Christopher Galicki – Smarttech247
Edward Skraba – Smarttech247
---
16:00 – 16:30 RDJ Incident Response Session
Participants:
Ricky Kelly – Partner, Ronan Daly Jermyn
Nick Hayes - Global Head of Technical Direction, BSI Cybersecurity & Information Resilience
---
Breakout Session: 16:00 - 16:30 The Changing Industrial Attack Surface
Mille Gandelsman
---
16:30 – 17:00 Afternoon Break (Sponsored by Cork BIC)
---
17:00 - 17:30 Security, Privacy and the Law
Speakers:
Emerald de Leeuw – Eurocomply CEO
David Cahill – Security Strategy & Architecture Manager, AIB

Deirdre McGoldrick - Assistant Commissioner, DPC

Ivan O'Brien – Advisory Partner, EY
---
17:00 - 17:30 Breakout Session: Disruptive Technologies shaping the Future
Speakers:
Speakers:
Mark Brosnan, CEO Xanadu/CoFounder Getvisibility
Carmina Santamaria, CEO & Founder, Kwema
Luke Sully, CEO & Founder, Custody Digital Group
Roman Wyhowski, CEO & Founder, Evalk International
---
17:30 – 18:00 The Future of Infosec For Private and Public Organisations
Speakers:
Paul Johnstone - Detective Sergeant,

Garda National Cyber Crime Bureau

Mark Jordan - Chief Technologist, Skillnet Ireland
Enda Kyne – CIO, FBD Insurance
Mike Trevett - UKI Director, Mandiant
---
18:00 – 18:20 Special Guest Keynote: Efrene Sakilayan – FBI
---
18:20 – 18:35 Closing Remarks - Andy Grzess - CTO Smarttech247
---
18:35 – 21:00 Cocktail Hour (Networking, canapés & cocktails)
Ian Brennan

Laya Healthcare CIO

Mark Brosnan

Xanadu CEO

David Cahill

AIB Security Strategy & Architecture Manager

Dr. Michael Connolly

Ireland East Hospital Group Operational Director

Donna Creaven

Irish Prison Service Director of Corporate Services

John Drury

Smarttech247 COO

Efrene Sakilayan FBI

Special Agent

Chris Galicki

Smarttech247 Director of Threat Intelligence Hub

Mille Gandelsman

Indegy CTO and Co Founder

Andy Grzess

Smarttech247 CTO

Nick Hayes

BSI Cybersecurity & Information Resilience Global Head of Technical Direction

Jonathan Healy

Mark Jordan

Skillnet Ireland Chief Technologist

Eoin Keary

Edgescan CEO & Founder

Ricky Kelly

Ronan Daly Jermyn Partner

Kevin Kennedy

Vectra VP of Product Development

Enda Kyne

FBD Insurance CIO

Emerald de Leeuw

Eurocomply CEO

Koos Lodewijkx

IBM VP / CISO

Deirdre A. McGoldrick

Data Protection Commission

Ronan Murphy

Smarttech247 CEO

Ivan O\'Brien

EY Advisory Partner - Head of Risk Services

Carmina Santamaria

Kwema CEO & Founder

Edi Skraba

Smarttech247 White Hat Hacker

Luke Sully

CUSTODY DIGITAL GROUP CEO & Founder

Mike Trevett

Mandiant UKI Director

Roman Wyhowski

EVALK INTERNATIONAL CEO & Founder
Smarttech247 is a multi award-winning cybersecurity organisation that provides innovative solutions to global companies. The Smarttech247 SOCs (Security Operations Centres) are certified to the highest quality and information security standards (ISO/IEC 9001;ISO/IEC 27001), and they deliver a wide range of cyber security solutions, including cognitive security services using IBM Watson for Cybersecurity, SIEM, Compliance & Governance, and Penetration Testing.