Description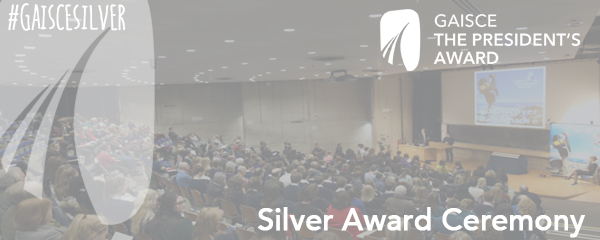 Congratulations on completing your Silver Gaisce Award!
Join us on Thursday, November 10th 2016 for our Gaisce Silver Award Ceremony from 7pm (event starts 7:30pm sharp) at Aula Maxima in University College Cork.
We look forward to celebrating your achievement and recognising the amazing work of our Silver Awardees. The Gaisce Silver Awards will be presented to Awardees by a very special guest. Please ensure you complete the registration form completely - this will help us with our preparation for the event.
Event: Gaisce Silver Award Ceremony
Venue: Aula Maxima, University College Cork
Date: Thursday, 10th November 2016
Time: Registration from 7pm, ceremony starts at 7:30pm sharp. A reception with light refreshments will follow the ceremony.
For queries related to the location, venue or parking at the event, please contact University College Cork at tel: (021) 490 3000
From all of us here at Gaisce - The Presidents Award, we hope you have enjoyed your experience of taking part in the Gaisce Silver Award programme and we look forward to celebrating with you soon.
**Please note that each Awardee can take one guest to the ceremony.
Organiser of Gaisce Silver Award Ceremony 2016 - Cork
Gaisce – The President's Award is a self-development programme for young people which enhances confidence and wellbeing through participation in personal, physical and community challenges.
Gaisce is a direct challenge from the President of Ireland to young people aged 14-25 to dream big, and realise their potential.
Gaisce is non-competitive - participants are encouraged to choose their own activities and goals with the support of a trained, adult President's Award Leader (or PAL). The Gaisce programme is delivered by over 1,500 PALs working and volunteering in a variety of organisations across Ireland.
There are three levels of Gaisce – Bronze, Silver and Gold. The more time and energy participants give, the greater their reward. 
Follow us: