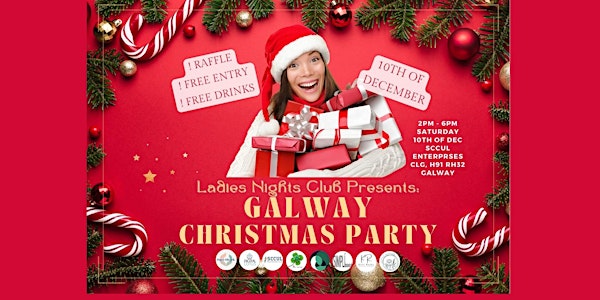 ⭐️ GALWAY Christmas Party 2022⭐️
When and where
Location
The SCCUL Enterprise Centre, Ballybane Castlepark Road Ballybane Ireland
About this event
A festive evening of socialising, fun, food and drinks! 🎄🎁❄️Enjoy a range of Christmas stalls selling an exciting assortment of goods and services. 🎁 A wonderful event especially for Ladies!
✨RAFFLE✨FREE ENTRY✨FREE DRINKS✨FREE PARKING
LOCATION: SCCUL Enterprise Centre 10th of December (2pm - 6pm)🎅
Event Partners:
• Digital Lotus http://digitalotus.com/
• Kate Rajba Art Studio https://www.katerajba.com/
Media Patronage:
Hello Irlandia
https://helloirlandia.ie/
⭐️ GALWAY Christmas Party 2022⭐️ Oj, znowu będzie się działo 🎅❤️🍾
🎄🎉 Zapraszamy na kolejną edycję Ladies Night już 10 GRUDNIA 2022 do SCCUL Enterprise Centre w Galway od godz. 14 do 18. Wstęp na imprezę jest wolny ✨🎁❄️
Podpowiemy wam jak w tym roku sprawić swoim bliskim wyjątkowy prezent pod choinkę! Będzie to świetna okazja do zakupu prezentów, naturalnych wyrobów czy barwnych, świątecznych ozdób.
Będziecie mogli również skorzystać z porad kosmetycznych Lidii Lewandowskiej z firmy Simpli Botanicals 🤶🎄🎉
W programie imprezy GALWAY Christmas Party 2022 w SCCUL Enterprise Centre:
Market, Loteria, Konsultacje & Networking.