Description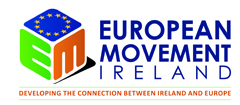 The Department of Foreign Affairs and Trade and EM Ireland are delighted to invite you to an evening's citizens' dialogue on Ireland and the Future of Europe
We are pleased to invite you to join the Minister of State for European Affairs, Helen McEntee T.D., at a unique opportunity to discuss the role of Ireland and its citizens in the Future of Europe.
Minister McEntee T.D. will be joined by Pat McDonagh, CEO of Supermac's, and Noelle O Connell, Executive Director of European Movement Ireland, for this Citizens' Dialogue in Galway.
A debate is now underway across Europe on how best to address the challenges of a rapidly changing world. Influencing the future direction of Europe should always be a priority for Ireland and we are planning a series of regional meetings which will facilitate your input into the wider European debate. Our starting point in this debate is to focus on the needs and concerns of our citizens, including discussions on:
How can we create a fair and competitive market for our businesses, that creates jobs and improve living standards, while continuing to protect consumers?

How can we work best with our European partners to maintain peace, security and stability?

How can we plan and manage our rural and urban landscapes in a way that improves the quality of our lives, and protects the planet and our natural resources?

How can we ensure equal work opportunities, while maintaining fair working conditions and good social protection for every generation?

How can Europe best support innovation and provide the training and skills needed to both equip us for the jobs of the future and remain competitive?
We look forward to seeing you there to take part in this important Citizens' Dialogue. The event is free to attend, but advanced registration is essential.

Have your say at #FutureofEurope