Galway City Museum is now closed in line with current Government guidelines. Please check our website and social media channels for details
About this Event
RE-OPENING OF GALWAY CITY MUSEUM
- Guidelines for planning your visit in line with Level 3 Covid-19 Restrictions
We will reopen our doors on Tuesday 1st December at 10am, with the greatest attention to the health and safety of both visitors and staff. Visitors can once again enjoy the latest museum exhibitions; MONUMENT in association with Galway2020 and The Corrib: Myth, Legend & Folklore.
Your care is our greatest concern and with that in mind we would ask you to please take a moment to familiarise yourself with our guidelines before you visit.
Admission remains FREE but TICKETS are now an essential requirement. You can get your tickets online via Eventbrite (www.eventbrite.com). Tickets will need to be presented as a printout or on your mobile phone at the main entrance. Please do consider making a small donation so that we may continue to apply the highest standard of care to Galway's material culture.
We will operate visitor quotas to spread the number of visitors evenly and safely throughout the day. When booking their ticket online visitors are asked to choose a time block. They are requested to visit the museum within this seventy-five minute slot. This allows us to keep the number of visitors to a safe and manageable level so that all can enjoy a comfortable visit. We would ask that you arrive on time and kindly leave when your time is up so that the next group may enjoy their visit too.
All our visitors are welcomed in person at reception and directed where to go but we recommend you review the route in advance via our website so that your visit can be as safe and satisfying as possible.
If you feel ill or are high risk you should stay at home. Visitors displaying symptoms or anyone who has been in contact with others infected by Covid-19 over the past 14 days will not be admitted.
Please note in compliance with Covid-19 Best Practice Guidelines, your contact details will be taken at reception and stored for 30 days, after which time they will be deleted permanently from our system. The purpose of acquiring this data is to allow for contact tracing should an incidence of Covid-19 be reported at the museum.
We regret that we do not currently have the capacity to take coats or bags for storage.
In each section of the gallery, we clearly indicate the maximum number of visitors, and we kindly ask that you observe this.
Hand sanitising points have been installed at the main entrance and in the exhibition space to provide you with hand gels, paper towels and a closed waste bin.
Sanitary facilities and contact-sensitive areas such as doors and handles, are thoroughly sanitized several times a day.
The exhibition space has been given specific routing to avoid contact with visitors walking in the opposite direction. This is also why the entrance and exit to the museum are kept separate. All routes along with the exit are clearly indicated by means of arrows and signs.
The rules for social distancing apply in Galway City Museum; our entire set-up is aimed at ensuring that you can comfortably maintain the desired distance of at least 2 metres.
Every visitor is encouraged to wear a face mask. Our staff will be shielded behind a perspex screen at reception and will wear face masks when in the gallery. This is something we will all just have to get used to!
All visitor information will be provided online at www.galwaycitymuseum.ie
Be assured we still welcome OBJECT DONATIONS. If you do have an object for donating to the museum collection we ask that you kindly email museum@galwaycity.ie or phone 091 532460. That way we can review and make the necessary arrangements for each individual case.
Have a question? Feel free to contact us, Tuesday to Saturday from 10:00 to 17:00 at +353(0)91 532460 or via museum@galwaycity.ie .
We trust you will adhere to these guidelines in the interest of fellow visitors, staff and most importantly for your own health and safety.
We will aspire to retain, as before, a safe public space but we do need your help. It is challenging to combine social distancing with real experience, reflection and engagement but we are up for the challenge again if you are. We look forward to seeing you again!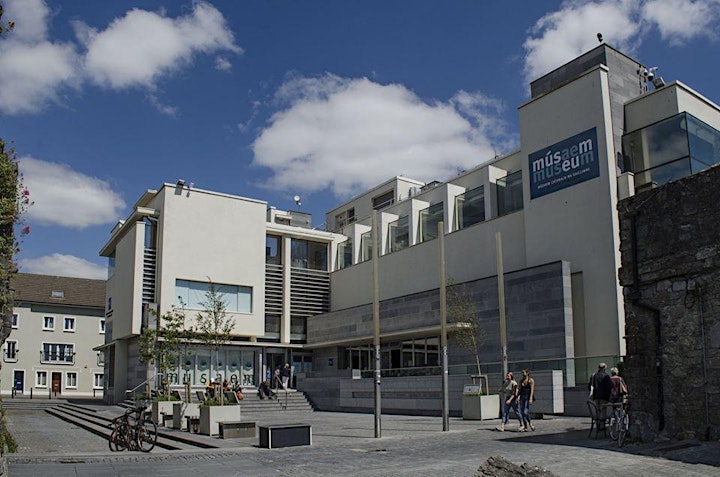 Have a question? Feel free to contact us, Monday to Friday from 10:00 to 17:00 at +353(0)91 532460 or via museum@galwaycity.ie .
Stay well. Bigí folláin.
Museum Team