Galway Google Design Sprint- solve Real issues for Non-profits as you learn
Description
Imagine if we could solve the world's problems at a local level at the same rate we solve technology problems at a global level? That is the purpose "The Ladder" - learn our advanced version of Google Design Sprints, while solving real problems for local non-profits and communities.
Join the fastest growing innovation community in Ireland and the world's largest Google Design Sprint meet-up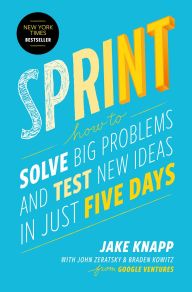 // What you will learn
(The workshop can be joined at any time, but you'll get the most out of it by attending all 6 weeks. If you can't attend see below for online and custom workshops)

There is only one real way to learn the Design Sprint skill - by doing - so you will solve a real problem with a local non-profit using skills you already have (and they need) in a structure we provide through the Google Design Sprint' adapted for use over 6 weeks.
We'll guide you along the way with a professional facilitator. You will learn how to define, ideate, prototype and test any idea in a rigorous, fun and proven way - through direct participation. You will learn how to build something before committing to people, time and money. Validate using the most rigorous, proven - and innovative approach available today.

Not only will you be learning, you'll be contributing directly to a real local cause as well as helping The Ladder reach it's goal - helping nations reach the global sustainable development goals by 2030 through scaling impact for local organisations and communities.

By following the steps, you can then try to run your own design sprint, or with some additional training facilitate at a Ladder Community or professionally. Join us after for an informal catch up in a local pub to get tips on how you can incorporate these techniques in unique ways within your team and organization.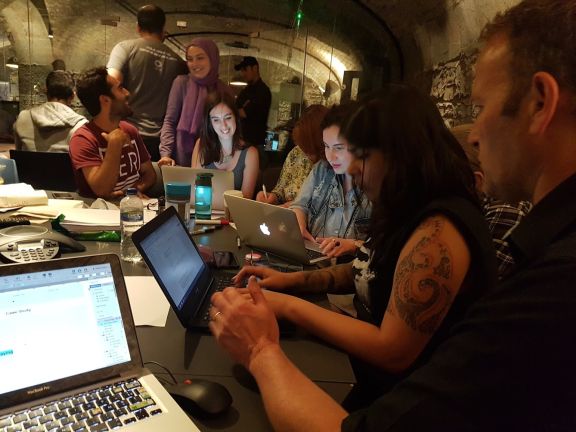 The outcome is that you will be a Design Sprint Practitioner, having solved a REAL problem through practice. You will be ready to try your own idea with a sprint as well as understanding the issues that face charities, communities and non-profits in your locality.
Interested in facilitating sprints? We are the only organisation who provide training on real sprints with real organisations from day one, with dedicated mentors. This is offerred to a very limited number of participants each Sprint Cycle. Check out the eventbrite page above.

What you get:
* Free CDST Training to be certification-ready
* The knowledge that you have helped a non-profit, community directly or indirectly
* Pre-requisites completed for CDSF - certified facilitator.

// Who should attend
Anyone interested in innovation, process (or teaching it), designers, product managers, product owners, marketers, developers, social entrepreneurs can leverage this methodology to drive meaningful change. Founders, team leads, product managers, marketers, engineers, designers, non-profits and .gov folks can all benefit. No prior experience is necessary.
// Agenda
Each evening goes through a specific format that is easy to join. Each project team will have a facilitator and a nonprofit organisation to work on for the next 6 weeks. You will be assigned a team based on your preferences stated.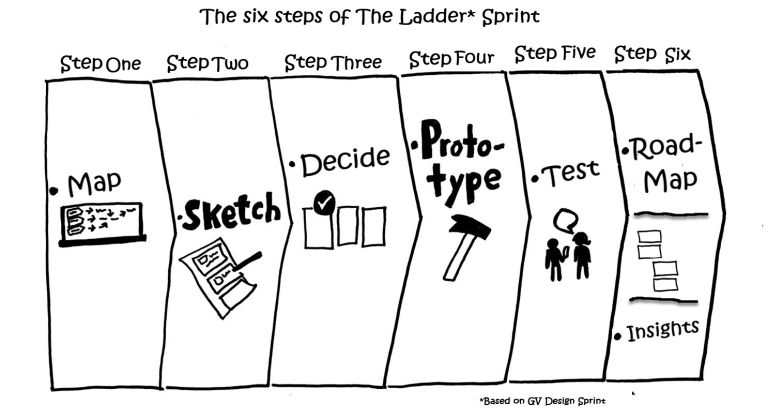 // What to bring
Pen, notebook

// What if I can't attend?
The Ladder provides custom training and facilitates training for corporations and enterprises. Get in touch.
We run paid Design Sprints for start-ups and businesses. Get in touch.

//Rules
This is a free workshop bringing like-minded makers and thinkers together to collaborate on learning how to innovate and build things that matter. 1) Everyone is welcome and everyone has a role. 2) We start on time so try and arrive on time.

// Our Facilitators

Colm Byrne
Colm Byrne is product manager and owner of the digital agency Flout.IO . He has created his own start-ups and helped Apple, JP Morgan, The AA, 118, Paddy Power Betfair and the guys who invented the hula hoop - build ground-breaking products.
Ruta Danyte
Ruta Danyte is an interdisciplinary communicator. She blends together creativity, technology, entrepreneurship, and communities. Her projects explore human development in the idea age. Connect with Ruta at https://ruta.io
Francesco Alioso
Francesco is design-obsessed with an eye for detail and beauty developed from a foundation in modern Italian furniture design and a childhood spent hacking toys and building machines. As a professional web designer with over 15 years experience, he now applies his cross-disciplinary skills to serve new frontiers in social causes. www.francescoaloisio.com
Mardea Gartree
Project manager and board member of a non-profit organisation in her community in Laois. Mardea understands the challenges and issues affecting non-profits in local communities. https://www.linkedin.com/in/mardea-g-09647b38
Virginia Raoul
As a UX researcher, she believes putting users in the center is the design is key to a successful solution and promotes collective creativity to help people and change the society positively www.linkedin.com/in/virginiaraoul
Kevin O'Connell
Kevin has over twenty-five years' experience working in Industrial Design, model making and prototyping, e-learning and web technologies. Has recently become immersed in the black art of user experience - making it easier for people to interact with technology. https://www.linkedin.com/in/kevin-j-o-connell