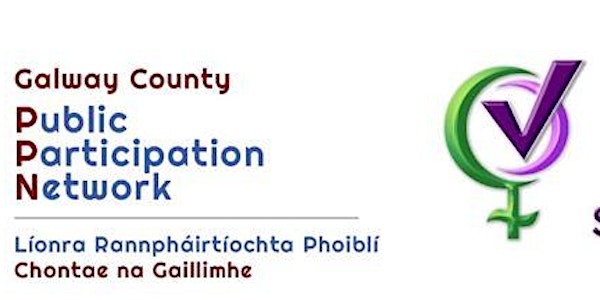 Galway Women in Politics- What you need to know
Women in Local Politics informing Women interested in Local Politics
About this event

WHAT? Galway Women in Politics- What you need to know.
We are delighted to bring together key partners active in politics and advocacy to give us important insights and collaborate with Dr Michelle Maher. Dr Maher runs the See Her Elected Campaign which promotes active citizenship and empowers women in rural constituencies to engage in electoral politics. Find out more here.
WHY? 'Our Council Chambers need to look more like the society it represents' (Dr Michelle Maher).
WHEN? Tuesday, 4th October 2022 (8-9pm)
WHO? This event is for all women interested in local politics in County Galway
PANEL:
• Megan Flynn Dixon (Galway Co PPN Rep)
• Dr Michelle Maher (Programme Manager for See Her Elected)
• CLLR Shelly Herterich Quinn
• CLLR Geraldine Donohue
• Claire Hillery (Campaign Manager for Senator Pauline O'Reilly)
More info:
You are invited to attend an info providing insights, motivations and stories from local women in local politics.
The aim is to show how women are already represented in official roles and encourage interest in the SHE School Programme which commences in October.
We hope you can join us at this short evening event to hear about the important role women are playing in local politics.