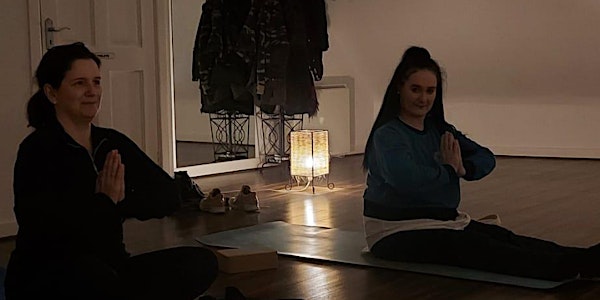 Gentle Evening Yoga
Gentle Evening Yoga
When and where
Location
DBK Fitness Glasthule Glasthule Road Dublin Ireland
About this event
We will be meeting at 8pm outside the venue.
The studio is very big and cosy :)
I have been practicing yoga since 2015 and became a qualified yoga teacher in December 2019 and have been teaching since.
My yoga style is Hatha and Vinyasa Flow.
Yoga is a wonderful form to reconnect with your body and soul.
Usually when I ask friends or colleagues to join one of my classes the most common answer is "Oh no, I am not flexible at all, I will be a fool doing it", which is very unfortunate as yoga is not about being flexible. Yoga is about feeling your body and your breath, strengthening your muscles and feeling good - mentally as well as physically. And over time you will start to become more and more flexible but rest be assured it is not the main goal of yoga practice.
My class is build in three stages.
First we will be doing some grounding and breathing work, followed by the actual yoga practice. At the end of the class we will be doing a beautiful mediation with affirmations.
Please bring a yoga mat and some water :)
Looking forward to meet you in person
Stay safe, stay happy, stay positive <3
Please feel free to follow my instagram account https://www.instagram.com/innersoulsmile/?hl=en
You can also visit my web page for more information www.innersoulsmile.com
Namaste `and stay happy <3
Lilly